Greenhouse will bring more growth to campus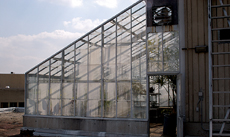 Mark Bennett
NKU may be a little greener in the near future. University officials revealed plans for a 3,050 square foot campus greenhouse.
The project is expected to cost about $600,000, becoming the first of its kind to grace Northern Kentucky.
The greenhouse will benefit NKU students and people in the surrounding communities.
"It is going to be a community center," said Debra Pearce, NKU interim chair and biology professor.
A classroom located inside the greenhouse will allow students, adult learners and botanists to learn and teach about plant life. Master gardeners will also have access to the greenhouse to share their information at various forums.
Students K-12 will be encouraged to visit and see how plants grow and propagate.
"Plants are the foundation of life on Earth," said Pearce. "It behooves all of us to be informed on how they benefit us and how we can protect them."
The greenhouse will have three individually controlled areas allowing plants from various habitats to live.
The project, originally budgeted at $500,000, may be located behind the University Suites and near the ceramics and sculpture studios. There is no final word on a location.
An official groundbreaking date has yet to be set, but campus officials hope to receive the OK from the state legislative committee by the end of May, according to Larry Blake, vice president of facility management.
The existing greenhouse, built in 1974, is located on the top of the old science center.
"The [current] greenhouse is impossible to renovate," said NKU biology professor Larry Giesmann.
Problems with the present greenhouse include temperature regulation problems, leakage through the greenhouse floor and lack of space.
"We have 10 [or more] classes that use the greenhouse," Giesmann said.
A new greenhouse would be better suited for the large number of students who utilize it.
The greenhouse is one of several additions to the campus.