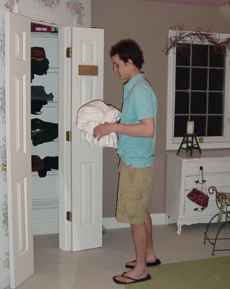 Wondering if you need a new wardrobe for the warm weather? As a self-proclaimed fashion expert, I'm here to help.
It's finally time to put the sweaters and boots back in the closet and break out the shorts and sandals.
If you don't want to be left out in the cold, follow my "dos" and "don'ts" for this spring.
All right fellas: one thing I've noticed at Northern Kentucky University is the amount of sleeveless shirts worn to class.
Sleeveless is great for doing yard work, but no one wants to see your hairy armpits hanging out while they're in class.
Visors are officially a fad of the past. You can flip them upside down, turn them sideways or wear them backwards, and you'll still look foolish.
I've also seen the socks-and-sandals combo being rocked a couple of times. Seriously, I shouldn't have to explain. Some things you just can't do.
Do go ahead and get yourself a trucker hat. They are staying 'in' for the spring. I know, I hate them too. But they're stylish and you can find one to fit your lifestyle.
Cargo shorts are still the preferred style for the springtime. But wait: Don't put all of your old jeans away yet!
Worn-looking jeans are in, especially expensive ones like Diesel brand jeans. Splurge on a pair, and I guarantee the chicks will notice.
Polos remain a popular choice for the spring, but mix it up with some vintage looking t-shirts from department stores, or find some bargains at a thrift store.
The biggest mistakes I see out of the ladies at NKU are the grungy sweatpants worn to class.
Don't get me wrong, a lot of sweatpants look great on girls, and I'm sure they're comfortable. But I see the four-year old pairs with holes and stains, which is a no-no.
Do not have your thongs pulled up on the sides to be seen by the whole world. This isn't a flattering look, especially for school.
You're not working the streets here, so have some modesty.
As with every spring, colors are in. Pinks are always popular, but mix it up. Experiment with black pants and skirts for hot looks.
Designer purses are still a great look for the spring. However, cheaper finds picked up at the thrift store can be your best bet.
The biggest "do" – accessorize. Accessories make or break outfits, but don't overdo it. Watches are a perfect look for both sexes.
Remember to keep your own style, but keep in mind what's in and out. Incorporate some trends to fit your existing wardrobe, and be confident.