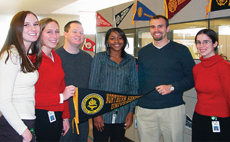 Career Development Center
Let's face it: Some college students are prepared when they graduate, while others are not quite as ready to face the challenges of the working world.
But hoping for a lucky break after graduation wasn't in Kristy Eversole's agenda. This NKU senior used the cooperative education program to start working in her field, industrial and labor relations, while she was still in school.
"The biggest advantage would probably be just getting my foot in the door and having experience in the business world," Eversole said.
Eversole now works for Procter and Gamble as a recruiter. She reviews resumes, schedules interviews, and helps with job fairs.
Once she graduates, her path will already be paved to begin a career with P'G.
She said she has an "advantage over fresh graduates who have never been in the business."
When you leave college for the "real world," full of careers and commitments, you don't want to be left in the dust.
The cooperative education program at NKU can help you take the lead.
Experience is the number one thing students lack when they graduate with a college degree, according to Jeff Schwierjohann, science co-op coordinator. Unfortunately, experience is the number one thing employers are looking for.
"Your degree is only part of your qualifications when you graduate," Schwierjohann said. "Co-op gives students a big jump on the competition."
In essence, the co-op program is an effort to prepare students for graduation and the harsh reality of the "real world."
What is Co-op?
Cooperative education programs began close to home at the University of Cincinnati's engineering college. NKU's center started in 1976, and it has become an intrinsic part of NKU and the surrounding area.
Cooperative education is a division of the Career Development Center (CDC) that allows students to work while earning class credit. The primary focus of co-op is to prepare students for employment after college.
Co-op is a requirement for some majors and optional for others. The jobs are paid, planned and supervised, and typically in your field of study. Participating in the program allows you to gain experience, learn new skills, develop connections, and get references so as to void being tossed into the job market unprepared.
Did I mention it's paid?
Even better, the CDC has partnerships with non-profit, government, business and education institutions. This gives you an array of options from which to choose, without having to muck through classifieds.
The co-op coordinators will even pair you up with prospective employers in a mutually beneficial situation.
They will do a lot for you, but they can't just hand opportunity to you on a silver platter.
Yes, you have to work.
"We will not get you a job. We will point you in the right direction," Schwierjohann said.
The co-op coordinators are the communication link between you and employers.
They get the leads: the rest is up to you.
It's an independent process, according to Kelly Harper, manager of co-op education. The student and the employer have to decide if the match fits.
Co-op is like an internship: The students register for the course, which counts as upper-level credit, and then write a term paper at the end.
Students can co-op at a part-time job for three credit hours, or go full-time for six credit hours.
Why should you co-op?
Co-op allows students to gain experience and develop skills, get a jump on competition, and test drive careers, Harper said.
Schwierjohann adds, "The primary idea is that working in your major enhances your education."
He works to place students from the science programs in jobs within their fields.
Schwierjohann said the goal is for them to "acquire skills necessary to be competitive in the job market."
Harper, who also works as the business coordinator, said, "You have to take advantage [of the opportunities] while you're in school."
Once you've graduated, it's a little late to get your foot in the door and develop job skills or community ties, according to Harper.
Another part of the co-op experience is test-driving a career. Students decide whether they like what their doing.
Even a bad co-op is still a good experience, Harper said.
"You can get a feel for what's out there and what's right for you," Harper said.
Connect with companies
Co-op students can connect and develop a relationship within the company, which in turn could lead to references and career opportunities.
Employers like to use co-op students to train and fit new people into the workspace, so students can have a full-time job waiting for them when they graduate, Harper said.
Schwierjohann adds that most students like to stay local.
However, it's often worth sacrificing a semester to co-op out of town or out of state.
"Any university has a huge human resource for industry and businesses near it," Schwierjohann said.
He adds, "[There's] no better way to influence the direction of business. It's also an opportunity for local industry to impact our curriculum."
Feedback from employers and students allows the university to keep pace with developing industries, especially in technological fields.
How to get started
Go to the CDC and complete an info session (a power point presentation acquainting you with the co-op program).
Then meet with a coordinator to work on your resume and references
The coordinators will also go over interview tips and other aspects of job hunting with you.
Then you begin the job hunt. The co-op program uses a web-based program called "eRecruiting."
Students can log onto www.erecruiting.com to connect with employers, search for job openings, and post resumes.
There are some requirements: You must have sophomore standing and at least a 2.2 GPA.
If you want to grab some experience, then you can stop by the Career Development Center in suite 230 of the University Center.
Or you can directly contact Kelly Harper at (859) 572-5681 or Jeff Schwierjohann at (859) 572-5966.
The CDC also offers career counseling, resume assistance, job search aid, access to Web-based job search programs and career assistance services.