SGA resolves to renovate game room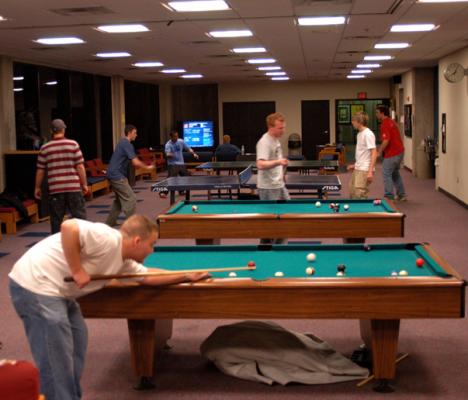 Mark Bennett
A resolution passed by the Student Government Association Senate March 29 calls for a facelift to the University Center game room.
Sen. Josh Ruth proposed the game room renovation, which would consist of repainting and decaling the walls and purchasing a new television, an arcade machine, a pinball machine, two pool tables, an air hockey table, a ping pong table, a foosball table and soft seating furniture.
According to Ruth, the projected budget for the entire project is between $20,000 and $25,000.
"This is something I've wanted to do all year," Ruth said.
The resolution states that "the current game room is in dire need of repair," and that these renovations are needed "in order to make the game room a more welcoming and pleasant environment."
Dean of Students Kent Kelso thinks the project is a good idea and is happy to see SGA taking the initiative.
"The area is definitely in need of a face lift," Kelso said, noting that some parts of the room are becoming "archaic."
"I think [these are] the types of things that SGA needs to be doing," Kelso said. "It's really a very visible way to impact students and also to generate some goodwill from students to the organization.
The Senate agreed to post $3,000 toward this project.
However, Vice President for Administrative Affairs Joe Myers believes SGA will amend the resolution at some point in order to post more dollars toward the renovation.
Myers said that as of March 29, SGA has a remaining balance of $15,425 available in their budget.
"Something like this is for the students [and] is a worthwhile expenditure of our money," Myers said.
SGA is also looking to receive an additional $2,500 from the Program and Activities Grant, which is overseen by Kelso, Executive Vice President Eric Fegan, and President Chris Pace.
Kelso believes it is very likely SGA will receive the maximum amount from PAG.
This money, combined with SGA's pledge of $3,000, would give the project a budget of $5,500.
"$5,500 does not go a long way when it comes to renovating space," Kelso said.
Kelso says that the walls will be painted, new furniture and a television will probably be purchased, and the pool tables should be recovered with this money.
He does not think the entire list of tasks is feasible.
"Two video games would take the whole budget," Kelso said.
Kelso believes another factor of this project is the anticipated new student union center.
He does not think SGA should spend too much money on the game room because it will go through significant renovations when the new center is built.
"There's a number of things that space is gonna evolve into when the new student union is built," Kelso said. "Well, that's still three years down the road. What do we need to do with it now?
"Giving it a facelift is not a bad idea. Students want to have pride in their space."
Ruth hopes that student organizations might help contribute to the project.
"[The game] room is truly there for the students and student organizations," Ruth said.
"We wrote the resolution in hopes to see that other student organizations will wanna help and see the place improve for their use."
Kelso sees this project as "another step toward trying to generate student spaces that reflect campus spirit."
He said he thinks this renovation will produce similar effects to those that came from the opening of the new Student Involvement Center in the Office of Student Life, which features NKU logo decals on the walls and black and gold decor to reflect school pride.
"[The] University Center is typically looked at as [the] principal property of the students," Kelso said.
"This is where students spend a lot of time. Especially that game room – I think only students spend time in there."
Ruth said he is excited that this resolution has passed the Senate. He believes it indicates SGA is fulfilling their duty to serve the students and their interests.
"Since I've started with SGA, I've felt we've not done enough things to give back to students," he said.
"We don't do enough student projects. That's really one of the things that I really want to see changed for SGA.
"We're here more for the students, we're here more to help them. We don't use enough of our budget to help the students."
The resolution calls for the renovation to take place over the summer, and to be completed for the fall semester.