Dinner showcases cultures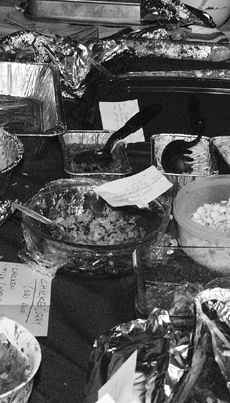 Tim Downer
If you smell the sweet aroma of ethnic cuisine and hear music blasting from Regents Hall on Saturday, you'll know that the International Student Union is having its annual International Potluck dinner from 5 p.m. to 8:30 p.m..
This potluck event will feature a variety of homemade foods from many different countries around the world.
Not only will you get a taste of many different cultures, but you will have the opportunity to enjoy live cultural performances and entertainment.
The events will include the following: a fashion show, a Japanese tea ceremony, Reggae music, international dances from Africa, Caribbean, Indonesia, Pakistan, and India, an American disco presentation, and musical performances ranging from blues to classical.
There will also be an international student guest speaker to talk about the American experience from differing cultural world views.
Anyone interested in attending the event will need to obtain a free food ticket either in advance or at the door.
The event requires that a person bring a homemade dish that will feed eight to ten people.
The cash tickets have already been sold out.
"We don't want people to buy tickets," said Joseph Ohemeg, social and chair of the International Student Union.
"We're not trying to raise funds, just having fun."
"Most international students will make food from their own culture (to share),"he said.
Ohemeg said the event is a "showcase of multiculturalism."
The organization expects about 500 students to attend/
If you want to join them, get your apron and your chef hat on and start cooking.
(Please, don't forget to wash your hands before you begin!)
To find out more about the International Student Union you can visit its Web site at studenthome.nku.edu/~isu/.