University Housing offers a closer look at campus living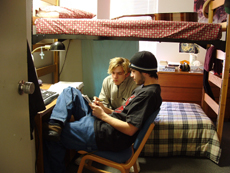 University Housing is hosting its annual Open House for prospective students to learn more about campus living. It will be held from 8 a.m. to 1 p.m. on Saturday, April 3 in Norse Commons.
"We anticipate 1,200 students next semester, and about 10 percent of those students live on campus," said Matt Brown, director of student housing.
The day will consist of a variety of sessions for people to attend, such as speeches, information tables and student panels.
After the new students register, the festivities will begin with Arnie Slaughter, Woodcrest Hall director, welcoming the students and introducing keynote speaker Kent Kelso, dean of students.
The students and their families will then be split up into four groups to rotate between four different information sessions.
The first session will be tables from different departments and student organizations to show how to get involved in campus life.
Departments will include admissions, financial aid and student life, coordinated by Cori Fuller, University Suites hall director.
The second activity will be a resident student panel for incoming students to speak with and ask questions of the current students. This panel will be hosted by Kentucky/Commonwealth Hall director Bethany Kilgore.
There will also be a Resident Assistant panel for families to meet RAs and get dorm living information. Carmen Myrick, Norse Hall director, will host the panel.
The final session will be a tour the University Suites and Commonwealth/Kentucky Hall rooms (where freshman traditionally live).
Kohl's, Target, and Bed, Bath and Beyond will decorate some of the show rooms to give students ideas about how to make their residence a home. The day will end with a brunch in Norse Commons at noon.
All four groups will come together and sample what the dining hall has to offer.
Information on room dimensions, what to bring to the dorms, and brochures from Dining Services will be handed out.
Over 150 participants are expected to come to the event and see what it's like at University housing.
For more information, call the office toll free at 866-572-5676.