Rock Fight!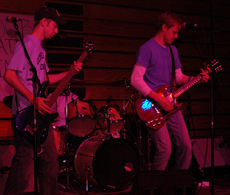 Mark Bennett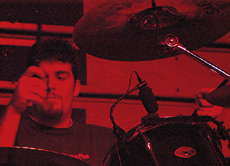 Mark Bennett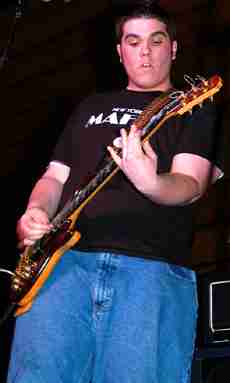 Mark Bennett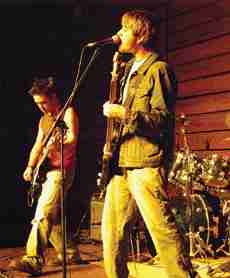 Mark Bennett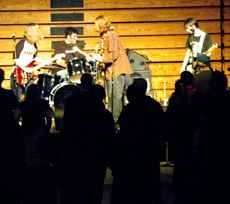 Mark Bennett
The second installment of The Battle of the Bands rocked Regents Hall on March 16. This year's battle showcased nine talented local bands, but only one would receive the $500 first prize.
"The Battle of the Bands was created last year, and there was such a turnout for it that the Activities Programming Board decided to make it an annual event," said Sheena Dunn, a sophomore pre-nursing major and director of Music for the Masses.
"We were really excited about getting to do this again. There was such a good turnout for the auditions, we knew it would be an awesome battle," Dunn said.
Auditions were held in February to determine which bands would compete. Once the bands had been selected, each of the nine bands was given a twenty-minute set to perform for the crowd.
Last year's champions, Payola, opened the show with a set that got the crowd warmed up and ready for the competing bands.
The first band to perform was NoRust. It seemed each of their songs flowed seamlessly from one to another, and the band's interaction within itself and with the crowd was unforced. Their song selection ranged from heavy to mellow, allowing the audience to see their versatility and talent.
When asked how the band got together, Ruebin Church, lead vocalist, said, "I was responding to an ad I saw in CityBeat."
All the members are current students at Northern Kentucky University, and they manage both a class and band schedule. NoRust currently plays around town about once a week, Church said.
One Breath Below was the next to play. Opening up with an upbeat song that caught the attention of the crowd, they continued to draw in the crowd with each lyric. With catchy words and good beats, it was easy to sing along.
Strip the Image followed with good harmonies and a nice mix of songs. Their emotions were evident in each song that they played.
Starting eight years ago, two members of this three-man band are currently students at NKU, said Brain Tolle, a senior graphic design major.
"My brother and I started the band and we found our lead singer soon after," Tolle said.
Influenced by the Beatles, classic rock, and current artists heard on the radio, Strip the Image finds inspiration for their writing in many facets, according to Tolle.
Next, with its upbeat, one-of-a-kind style, The Shout played their set.
Using a different style and incorporating other instruments not like any of the other bands, The Shout found a way to give each of their songs character. Addictive beats and good band chemistry showcased the individuality of the band.
Playing like there was no tomorrow, Alisypo busted onto the scene with its feel-good vibe.
With intense, high-energy songs, it was hard not to find yourself bobbing your head or tapping your foot to the beats.
Unique to the majority, Track West followed. With three different lead vocalists, each song brought something distinctively different to the table and couldn't go unrecognized.
Playing right after was Silent Station. Having their own unshared stage presence, this band was full of high energy and had such an intensity to their songs that you could truly feel the emotions that were put into every lyric.
Rounding out the battle was Domestic Hate. Hard and heavy, this band came with a raw and edgy sound. This band's in-your-face attitude came through, and with a DJ on the scene, it definitely gave a refreshing approach to the band.
The votes were collected and counted while Payola played another set to end the show.
The top three bands from the battle were announced.
Coming in third was One Breath Below, in second Track West and the 2004 Battle of the Band champions were Norust.