AAC to forgo food for needy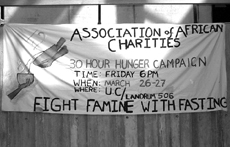 The Association of African Charities will hold the second annual 30-hour hunger campaign at Northern Kentucky University to raise awareness about world hunger and collect donations for families in Africa.
In an effort to alleviate world hunger, participants seek sponsors to donate money while they fast.
The goal of the campaign is to "raise awareness of food shortages threatening poor people around the world and to raise money to help supply them with clean water, food and medical supplies," according to senior Corey Catton, vice president of public relations for the AAC.
All of the proceeds are sent to such countries as Zambia, Zimbabwe, Kenya, Ethiopia and Ghana.
"There are people in Africa that go without food for more than 30 hours," said sophomore Selina Oladapo, executive vice president of the AAC. "We want to make people see how they feel."
The campaign begins at 6 p.m. Friday, March 26, when participants will meet in the Business-Education-Psychology room 200 to listen to a speaker. Later, the event will shift to the student lounge in the University Center and then to Landrum 506. Games, cards and movies will be provided for entertainment.
Juice and soda will be available during the fast, and after the 30 hours, participants can enjoy a feast of African foods provided by African Cuisine or pizza.
The event is open to all NKU students and faculty members. All AAC members will participate in the hunger campaign, as well as members from several other NKU organizations. The AAC will have a table set up in the UC lobby Thursday, March 25, for more participants to sign up or make a donation.
"There is no amount too small to donate," Oladapo said.
Last year the campaign raised $1,200 and was voted the most outstanding program at NKU's Student Organization Celebration awards.