Garage to alleviate parking problem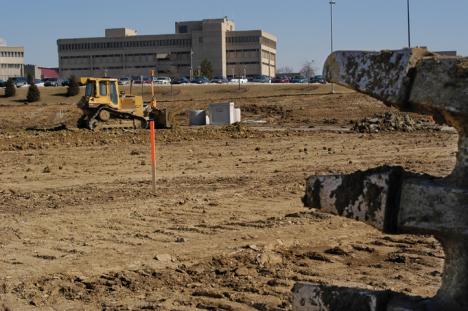 Tony Redell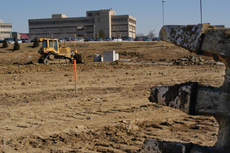 Tony Redell
The first phase of construction is underway for a $9.1 million, three-level parking garage that will create hundreds of new spaces for student vehicles at Northern Kentucky University.
The garage will be built in three phases. Initial construction began in mid-February. By fall 2004, over 200 parking spaces will be available to students.
The structure, designed by Champlin/Haupt Architects, Inc., will occupy the former soccer field on Kenton Drive.
Henry Keene, university architect, said the garage should be complete by spring 2005 and will accommodate approximately 680 parking spaces, although more could be added in the future.
"The project does have a total build out capacity of up to 1,600 spaces, which would result from additional phases of the project, expanding the garage back toward I-275," Keene said.
Messer Construction is building the structure, which the architects designed to have "multiple linear light wells [that] separate the garage into five sections, allowing daylight to permeate all levels of the garage."
Architects from Champlin/Haupt were selected to design the structure because of previous work with NKU, including the new two-story power plant.
"They were selected by a selection committee, in a process managed by the state," said Mary Paula Schuh, director of campus planning.
"The university had two representatives on the selection committee, as is true for all of our projects."
NKU students have mixed reactions to the new garage. Some said they have no problems finding a parking space. Others, however, welcome the additional parking the garage will provide.
Junior Olisa Mbelu said it usually takes him about 20 minutes to find a parking space.
"You have to wait for someone else to leave before you can park," he said.
"I really don't have a problem with parking, as long as you get here at 8 a.m.," said senior Jed Grossman.
Schuh said the garage was first requested in the 2002 Capital Budget, and later approved by the General Assembly in 2003.
The $9.1 million needed to fund the structure came from an increase in parking fees.
"We issued bonds. The money to pay the debt service is coming from the doubling of the parking fees that was approved in 2003," Schuh said.
"The doubling [of the fee] is phased in over a two year period."
A parking permit for the 2003-2004 school year cost $72.
With a valid NKU parking permit or temporary permit, students currently have two options: They can either park in one of several commuter student lots or in the University Drive garage, located by the Business-Education-Psychology Building.
Students using an NKU All-Card can park in the garage for 50 cents, whereas others are charged a fee of $1.
The cost to park in the new garage has not yet been determined.
However, "parking garage fees were not recommended to increase," according to the Staff Congress minutes from the Jan. 16, 2003 meeting.
Even with a permit, students are not guaranteed a parking space.
They are given "only an opportunity to park within specified areas," according to NKU's parking regulations.
Most students agree that they dislike the increase in parking costs, especially because they are still not assured a space.
"I don't think students should have to pay for parking at all, if we pay for the pass," Mbelu said.