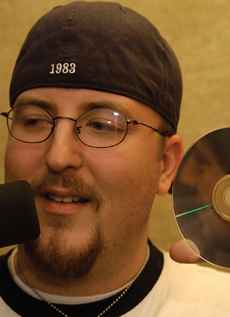 30 Tuesday and Thursday.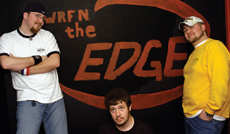 Tony Redell
Absurd humor, fresh ideas, fun people and a variety of music that doesn't mimic the top 40 radio stations: It's a fun job, but someone's gotta do it.
WRFN "The Edge," NKU's student-run radio station, is a happening place. During the week, any time between 10 a.m. and 2 p.m., the cramped studio in University Center 215 is buzzing with music, mayhem, and merriment.
"We want to be heard," said Josh Estep, program director and disc jockey.
But despite the fun, there is a lot involved in running the first "real" student radio station to grace NKU's program list in almost five years.
When Estep arrived on the scene a few years ago, WRFN was practically nonexistent.
The station began airing last semester via speakers broadcasting music in the University Center. Wiring the speakers cost a hefty bundle, nearly $2,000.
"Funding is a huge problem," according to DJ Nick Greenwald. The station receives only about $2,000 per year in funding. But that's much more than they had before, which was zilch.
"We appreciate what [funding] we have," said radio program adviser Chris Strobel.
"We can make do with what we have, but more money would be helpful," Estep said. "We could do much better programming.".
Although Strobel helps out, the station is completely student run, primarily by volunteers.
It's a job for "people who love radio," Strobel said.
It's a challenge to keep people "who are willing to work hard," according to Greenwald.
Though these students have brought the station very far – from not existing, to airing in UC's Cafeteria, Student Lounge, and Student Involvement Center – they also have a long way to go.
The station's immediate goal is to provide access to live shows via the Internet by the end of the semester, through a process called stream casting.
Right now, only recorded shows can be posted on the Internet. You can find the shows at www.live365.com.
And the big problem: "We have no tower," assistant DJ Shiloh Kitz, freshman, said.
So the station's most ambitious goal is to get a transmitter and be on the air for real, not just wired to speakers in the UC.
"Once we start transmitting, it will get more organized: I hope," Greenwald said.
The station has a loose, relaxed arrangement for now. But once the programming develops, they want to see the station become more organized and structured.
Most of the shows don't have a general format, such as country or hip-hop music. The DJ plays whatever music he or she has an itch to play.
But the student producers want more students to participate in the program, by listening and responding with calls or e-mails.
"We don't actually like picking music," said DJ Will Johnson. "We prefer it if people told us what they wanted to hear. We encourage calls, even pranks."
However they only interrupt a song to put you on the air if you're highly amusing.
The students are also looking for a better variety of programming, such as talk shows and news. However, a new program can't form until students volunteer their time and step forward to make the program happen.
Most of the students would like to have a better variety of shows on the air, such as a talk show or a news program.
For now, the only shows are music, with an occasional spontaneous interlude from the DJ.
But they seem to have a good crew now. Everyone is having fun, and they're committed to the blooming station.
Friendships have sprung from the soil of creativity surrounding the station.
You can feel the energy when you walk past the open door of UC 215 (because they don't have any air vents and have to keep the doors open to breathe).
Greenwald said he sometimes worries about the fate of the station once he and other senior members leave.
After all, he practically created the station out of thin "air."
But I don't think he has to worry. The new seeds of ambition are already taking root with a host of vibrant, new talent.
The students have to love it: that's what they're there for.
And things like that don't die.
If you're interested in joining WRFN, just stop by room 215 in UC, or call (859) 572-1800. You can also mail Estep at estepj@nku.edu. Or, hey, just make a song request.