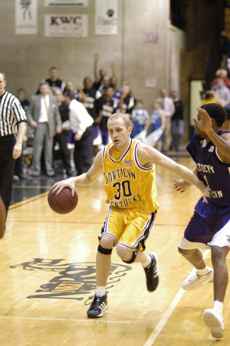 Tim Downer
OWENSBORO, Ky. – Eric Freeman scored 21 points and grabbed 11 rebounds Saturday as Kentucky Wesleyan College posted an 87-66 win over Northern Kentucky University in the Owensboro Sportscenter.
Craig Schoen added 18 points and nine assists as Kentucky Wesleyan (19-7 overall, 14-6 Great Lakes Valley Conference) led the entire game.
Freeman scored five points in the first three minutes as the Panthers jumped out to a 13-0 lead, and Kentucky Wesleyan eventually built a 28-9 advantage with 9:51 remaining in the first half.
"Kentucky Wesleyan is the best team in the GLVC right now, and they are playing tremendous basketball," NKU head coach Ken Shields said.
"They have a great chance to get back to the Elite Eight if they continue to play like this."
Jesse Rupe rallied NKU by scoring 15 of his 17 points before halftime as the Norse cut the Kentucky
Wesleyan lead to 47-38 at the break.
After NKU pulled within 54-48 on a jumper by Kevin Reinhardt with 16:52 left in the game, Wesleyan used a 13-6 spurt to build a 67-54 lead.
Wesleyan proceded to go on a 16-0 run to build an 83-56 lead with 6:15 left on the clock and rolled to the victory.
"Freeman was tremendous, and Craig Schoen did a great job directing Kentucky Wesleyan at the point," Shields said.
Reinhardt finished with 14 points and 10 rebounds for NKU, which dropped to 16-14 overall, 9-11 in the GLVC.
Mike Kelsey added 12 points for the Norse, who shot 39.4 percent from the field.
Franklyn Ferguson finished with 14 points for Kentucky Wesleyan, which made 54.8 percent of its shots from the field.
The Panthers also connected on 13-of-24 shots from three-point range, including 8-for-12 shooting from long distance in the second half.
NKU finished in seventh place in the GLVC regular-season standings, and the Norse will be the No. 7 seed in the GLVC Tournament next week at Evansville, Ind.
NKU will meet No. 2 seed University of Southern Indiana at 9:30 p.m. this Friday night in the first round at Roberts Stadium.
NKU and Southern Indiana split in the regular season, with each team winning at home.
The Screaming Eagles enter the GLVC Tournament with a 22-5 overall record.
*Article by Sports Information