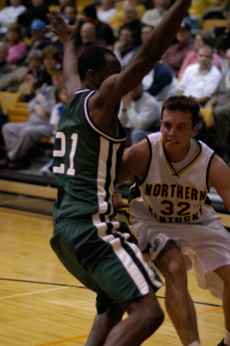 Tim Downer
This week, John sits down with Norse guard Steve Purdon. Purdon is in his first basketball season at NKU after transferring from Union College. He finished the season averaging 10.9 points per game and shooting 40 percent from behind the three point line.
John Rasp: How hard was the transition from NAIA to division II? Steve Purdon: It wasn't too hard. It's more competitive and the competition was higher. But other than that, it wasn't that hard at all.
JR: Fact or Fiction: It takes you longer to gel your hair then to put on your uniform? SP: Fiction.
JR: How did you get the nickname "Clubbin' Steve"? SP: My redshirt year when the guys would go out of town, I would go out downtown. They would ask me what I did when they got back, and I told them I went to a club. That is when Clubbin' Steve came alive.
JR: Jesse Rupe said in a previous hot seat article that you were "Mr. GQ." Do you have any comments about this? SP: No, not really. I guess it was a compliment, so I'll just take it as a compliment.
JR: Have you ever thought about spotting up from half court in a game? SP: I've thought about it, but I'd never do it. I think the max I've ever shot here was about from 30 feet.
JR: In high school and college you've always had the number 32. What's the significance of this number? SP: It was my dad's number in high school. I've tried to keep it wherever I've gone. JR: Have you been dunked on by someone yet this year? SP: This year, fortunately, no. I don't go in the lane much. I stay way out. It's hard to get dunked on from the three-point line.
JR: What NKU player talks the most trash in practice? SP: Adam Howell.
JR: What basketball player gets the most ladies? SP: Sean Rowland because of his big nose and his receding hairline.
JR: Who are the five best pure shooters in the GLVC? SP: You got to put Kelsey in there. I don't really know.