Freshman leads women to win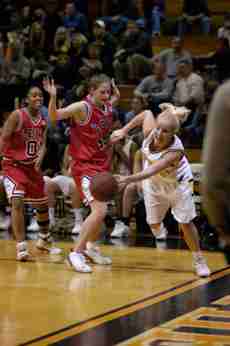 Tim Downer
OWENSBORO, Ky. – Karyn Creager scored a career-high 22 points Saturday as the Northern Kentucky University women's basketball team defeated Kentucky Wesleyan College, 81-64, in the Owensboro Sportscenter.
Creager, a freshman guard who made seven of her eight shots from the field, also added five rebounds, four assists and two blocked shots as NKU improved its record to 17-9.
Connie Myers finished with 11 points for the Norse, who closed out its Great Lakes Valley Conference regular season schedule with a 12-8 record.
"It was nice to see Karyn score like that and play aggressively on offense," said NKU head coach Nancy Winstel.
"I told the players there is a certain level of play we need to reach, and hopefully we will get there before the season ends."
NKU shot 51.9 percent from the field in the first half and built a 38-25 lead at the break.
The Norse also held Kentucky Wesleyan (5-22 overall, 2-18 GLVC) to 32 percent shooting from the field in the opening 20 minutes.
NKU led by as many as 23 points in the second half and defeated Kentucky Wesleyan for the 13th consecutive time.
Kentucky Wesleyan has not beaten NKU since Jan. 31, 1998, when the Panthers pulled out a 74-72 overtime win against the Norse in Owensboro, Ky.
The Norse are now 41-3 all-time against Kentucky Wesleyan.
Sharell Snardon, Nikki Perkins and Jessica Brock each added 10 points for NKU.
Snardon grabbed a team-leading seven rebounds for NKU, which won the battle of the boards by a 38-25 margin.
Karmen Graham finished with eight points, six rebounds and four blocked shots for NKU.
Elizabeth Burrows dished out a team-leading six assists for the Norse.
NKU will be the No. 6 seed in next week's GLVC Tournament at Evansville, Ind., and the Norse will face No. 3 seed University of Indianapolis (20-7 overall, 14-6 GLVC) in the first round this Thursday (March 4) at 1 p.m. (EST) in Roberts Stadium.
NKU and Indianapolis split during the regular season, with each team winning at home.
NKU defeated Indianapolis at home on January 2 by a score of 61-54.
Nikki Perkins scored 10 points in the final eight minutes to lead the Lady Norse, who trailed by as many as 14 points during the game.
Sharrell Snardon scored 12 points and grabbed 14 rebounds to lead NKU.
Indianapolis defeated NKU Feb. 21, 50-49.
*Article by Sports Information *Kyle Burch contributed to this article