Women lose to Indianapolis in last seconds, despite effort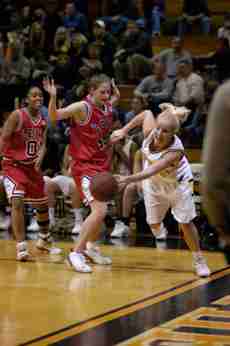 Tim Downer
INDIANAPOLIS – Sara Strahm made a free throw with 10.7 seconds remaining in the game to snap a 49-49 tie as the University of Indianapolis women's basketball team held off Northern Kentucky University, 50-49, Saturday night at Nicoson Hall.
After Strahm's free throw gave Indianapolis a 50-49 lead, NKU's Jessica Brock hurried the ball up the floor and attempted a 10-foot leaning jumper from the right side of the lane. But the shot missed, Indianapolis controlled the rebound, and time expired.
Strahm finished with 12 points as Indianapolis improved to 19-6 overall, 13-5 in the Great Lakes Valley Conference. Amy Wisser also added 12 points for the Greyhounds, who rallied from a three-point deficit in the final minute of play.
Indianapolis built an 11-point lead (38-27) midway through the second half, but NKU used a 19-6 run to take a 46-44 advantage when Nikki Perkins hit a jumper with 2:48 remaining in the game. The Norse still held a 49-46 lead with 1:50 left on the clock after Karmen Graham made a short jump shot in the lane.
Strahm converted two free throws with 31 seconds remaining to cut NKU's lead to 49-48. After an NKU turnover, Amanda Norris was fouled with 12 seconds left and she made the first free throw to tie the game at 49-49. She missed the second attempt, but Strahm grabbed the offensive rebound, drew a foul with 10.7 seconds remaining and made 1-of-2 free throws to give Indianapolis the victory.
Connie Myers led NKU (16-8 overall, 11-7 GLVC) with 14 points, while Graham added nine points. The Norse, however, made just 7-of-17 free throws and lost the rebounding battle by a 36-29 margin.
NKU is tied for fifth place in the GLVC standings with the University of Wisconsin-Parkside going into the final weekend of the regular season. The Norse go to Louisville, Ky. this Thursday for a game at Bellarmine University.
Bellarmine will enter the game with an 18-7 overall record. The Knights are in second place in the GLVC with a 14-5 mark.
The Norse will then play in the GLVC Tournament March 4-7 at Roberts Stadium in Evansville, Ind.
The winner of the GLVC Tournament will receive an automatic berth in the NCAA Division II Tournament. NKU was ranked No. 7 in last week's NCAA Division II Great Lakes Region poll.
The top eight teams in that poll will qualify for the NCAA Division II Tournament.
*Article by Sports Information