NKU to host Celtic concert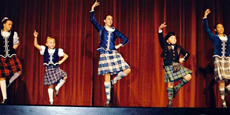 Melissa Volck
Cincinnati's premier Celtic music and dance concert. "Highland Blast," will make its debut performance at Northern Kentucky University Saturday, Feb. 28 at Greaves Concert Hall.
The concert will begin with traditional marching pipe band music, and turn into a modern view of bagpipes mixed with rock and roll, according Melissa Volck.
Volck is a dancer, manager for the Celtic Rock Band "Knockagael," and a University of Cincinnati alumna.
The concert will consist of three groups of Scottish, Irish and British music and dance: Knocknagael (Volck's band), Mad Anthony Pipeband and the Cincinnati Highland Dancers, Volck said.
"Celtic is a genre," Volck said. "It is a big category for Scottish, Irish and British music and dance, but mostly Scottish."
The instrumental concert is filled with sounds of traditional pipes, drums and dance, along with the new sound of Celtic rock and Scottish bagpipes.
The performances appeal to audiences of all ages and make for an entertaining show, according to Volck.
The majority of the performing groups are college-aged students, some from NKU. In fact, one of the dance instructors for the Highland Dancers is Louise Reid, a former NKU dance professor.
The groups are all based in Cincinnati, but they perform and compete all around the Midwest and Canada.
They have played locally in the Celtic Festival at Coney Island and in the Celtic Lands Festival at Union Terminal. This is the first time the three bands will play together, however.
Admission is free and the doors will open at 8 p.m. The concert will begin at 8:30 p.m.
You can get more information about the bands and future shows at the Web site www.knocknagael.com.