Mardi Gras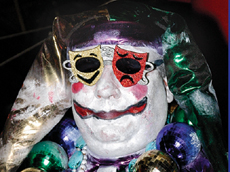 Tony Redell

Tony Redell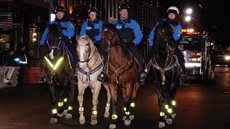 Tony Redell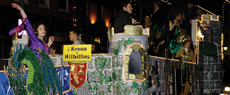 Tony Redell
When it comes to celebrating Mardi Gras (Fat Tuesday for those of us who don't speak French), people from the Greater Cincinnati area don't have to go to New Orleans to enjoy the festivities: there is a celebration right in our own backyard.
Northern Kentucky's Mardi Gras party began Feb. 19 and ended Feb. 24.
Mardi Gras is the day before the Lenten season begins, and was so named because for many it was one last opportunity to eat and drink, according to the History Channel's Web site.
Lenten is when many religious followers fast and spurn their bad habits for 40 days, and Mardi Gras exists as a last chance to get the bad habits and indulgences out of your system.
With this in mind, some Northern Kentucky University students started celebrating as early as Friday morning at a party hosted by the radio station WEBN at Jillian's, a bar in Covington. It was dubbed "Crowning Ms. Mardi Gras."
Event coordinator Dylan Speeg said that the Ms. Mardi Gras party began as a way to celebrate Mardi Gras, and to publicize local bands.
"(It) helps local bands and rallies the crowd," he said.
A local band played for the crowd, and Pauly Shore was the celebrity guest.
This year's festivity began at 6 a.m. and ended at 10 a.m.
People were decked out in beads and outrageous costumes of green, purple and gold, the colors most associated with the event.
In order to earn the title of Ms. Mardi Gras, the women participated in a dry t-shirt contest, and were judged based on the crowd's approval.
The winner of the title and accompanying $500 prize was Naomi Alley, a NKU student majoring in construction management.
"It could not have came at a better time," Alley said.
She said she plans to use the money to pay for her mortgage this month.
Alley also said that she plans to compete in more contests, and that it was all in fun and not degrading to women.
For others, the celebration began later Friday evening, with a parade at MainStrasse Village in Covington, Ky.
The parade had a variety of interesting characters and floats, including a flashing pig, a tribute to the Rocky Horror Picture show, a fire-breathing man, and paper-mached heads depicting Jerry Garcia and other well-known artists
After the parade, the revelry began.
Police officers could be seen throughout the streets of Covington's German Town, but even more prevalent were the beads, jester hats, beer, and even the occasional flash of a breast – male or female – followed by the traditional shower of beads.
Those who chose to stay outside could drink alcohol and listen to local band The Rusty Griswolds play music in a tent in the parking lot.
The fun was supposedly over when the bars closed at 2 a.m., but laughter and yelling could be heard until the early morning hours.
Saturday night at MainStrasse was much the same as the first: one: a big party with plenty of beads to keep the current of excitement strong enough to last through Feb. 24, the offical Mardi Gras.