Baseball team looks to improve record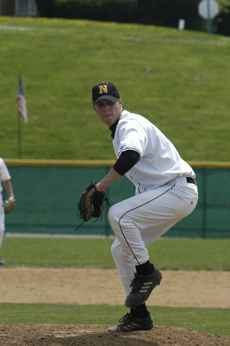 Tim Downer
The Northern Kentucky University baseball team opened a new season Feb. 14 at Cumberland College with hopes of bouncing back from last year's disappointing finish.
The Norse split the two game series, losing game one by a score of 3-1, and winning game two, 5-1.
The team will attempt to improve upon last season's 28-24 record, in which its failure to make the conference tournament was a first in Head Coach Todd Asalon's three-year tenure at NKU.
"I think we're much improved over last year," Asalon said. "We have a different look this year compared to last year: we're bigger and faster. The strength of our team will be pitching. We have everybody back, and have added some junior college guys and freshmen that will be good."
Sophomore righthander Derrick Moeves, who had a record of 4-4 and an earned run average of 5.24 last season, leads the deep pitching staff. Seniors Mike Marksbury and Chris Unkraut, along with newcomers Matt Wiedeman and Rick Wood, should solidify the starting rotation. Justin Seiter, last year's team leader in saves, will anchor the bullpen.
According to Asalon, the Norse should be much improved on the offensive side of the ball as well.
"Justin Mundt, a transfer from Tennessee Tech, should be batting leadoff, and cause some problems. We need our fast guys to get on and our big guys to drive them in," Asalon said.
Keith Jackson hit .300 last season and will bat third in the lineup and is expected to produce big numbers both in runs batted in and steals. Jerrod Fraley and junior college transfer Alex Frank will protect Jackson in the middle of the lineup by providing much-needed power.
The Norse have a host of young talent this year to complement the returning players. Freshmen Matt Wagers from Hamilton High School, and Andrew Bradley, out of Moeller High School, will be in the starting lineup, playing third base and rightfield respectively.
Matt Marksbury will most likely be a mid-week starter and a key contributor on the mound. Aaron Crenshaw and Ben Wrobleski will also see some time, adding a lot of depth to the infield.
On March 6 the Norse will kick off a spring trip against powerhouse programs Valdosta State, Florida Southern, and St. Leo's.
"That's a part of our plan, is to get our guys out there, and see what the best teams in the country really look like," Asalon said.
"We need to see better teams to make us better for our conference. Once we come back from Florida we can say that we won't play anybody better than that."
Currently, St. Leo's is ranked 19, Valdosta State is ranked 20, and Florida Southern is ranked 21 according to USA Today.
Ben Wrobleski, freshman third baseman/outfielder said, "Bring it on. Those teams are nothing we can't handle. I can't wait to go to Florida and rough up on all those teams. Pitching and speed wins games and we got both of them."
Whatever the outcome in Florida, the Norse will have their work cut out for them in this region as well.
USA Today ranked rival Great Lakes Valley Conference teams the University of Southern Illinois at Edwardsville and The University of Indianapolis twelfth and thirteenth.
"Last year we had only one true senior, this year we have about eight or nine seniors who are pretty hungry," Asalon said.
The seniors will have to step up and make the difference for the team this year if the Norse expect to bring the GLVC championship back to Highland Heights and make a run at the NCAA Tournament.