Television: A staple of our cultural diet for 50 years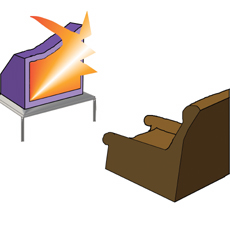 With the cornucopia of entertainment on television, it's sometimes hard to decide what show to watch, but there's always that tantalizing treat that most people just can't get enough of.
It's a selfish indulgence, a guilty pleasure, like Milano cookies.
Whether it's comedies like "Friends," dramas like "Sex and the City," or mysteries like "C.S.I.: Crime Scene Investigation," there's a taste for every palate. Even reality shows such as "American Idol" and "Survivor" offer an orgy of succulent tidbits.
And once you've tried it, you're hooked.
Addicted viewers always make sure to be home in time to catch that one show, the one that can't be missed, lest they suffer withdrawal.
The shows offer an escape from our lives-an alternate reality-which is why watching TV can resemble a drug-induced euphoria.
(And did we mention that if you watch too much of "The Simpsons," you shouldn't operate heavy machinery?)
Television shows can make you laugh, cry, or suck you in to the point where you have to see what will happen next.
Some like to get a good laugh with a comedy.
Sophomore elementary education major Mara Castillo has been a follower of "Friends" since it first aired in 1994.
"I've watched the show since it came on," she said. "I look forward to Thursday night because I know 'Friends' will make me laugh. It's just funny, cute and entertaining."
Castillo says that after the show ends in May, she plans to buy all the seasons on DVD.
Junior business management major Josh Barklage enjoys the cartoon "Family Guy," which airs four nights per week on Cartoon Network.
"It's like the Simpsons on crack," he said. "It's a fun show with lots of off-the-wall humor."
Others like to tune into one- hour dramas.
Senior marketing major Katie Crawford enjoys watching "ER" because the show, now in its tenth season, mixes things up and never has the same plot twice. (This way you won't build up your tolerance.)
"It's exciting because the story line is never the same," she said. "The plot is always changing."
Another popular drama is "C.S.I.: Crime Scene Investigation," a one-hour suspense/police drama where the characters solve seemingly- unsolvable crimes.
Senior criminal justice major Cheryl Ritchie enjoys the show for just that reason.
"It goes into every step of solving crimes. It has very interesting storylines, even though they are not always based on fact," she said.
"Even though it's not real, it's something that I would be interested in going into when I have completed my degree."
Others enjoy the myriad of reality shows on the air.
This seems to be the current drug of choice due to the abundance and variety of reality shows.
Freshman nursing major Kristie Veldkamp is happy to see "American Idol" back on the air.
"As a singer, it's amazing to be able to see and hear all of the wonderful talent many people across the United States possess," she said.
"I envy them in many ways. They have the opportunity to let their voice be heard and make a difference."
Veldkamp says that she wouldn't have to think twice if she ever had the opportunity to audition.
"I'd try out in a heartbeat, if given the chance," she said.
Senior marketing major Michael Brunk likes "American Chopper," which airs on the Discovery Channel.
This show is about Paul Teutuls Sr., who restores signature motorcycles with his family and friends in their Orange County garage.
Brunk says he likes the show because of the amazing craftsmanship of the bikes, and the humor between the father and son.
"It's funny to watch father and son bicker about almost everything," he said.
"Paul Jr. comes up with amazing craftsmanship and Paul Sr. always tries to take the credit."
Freshman human services and education major Shannon Britton enjoys "The Real World/Road Rules Challenge," which features alumni from both popular MTV shows competing in challenges against each other.
The show recently aired episodes called "The Gauntlet" and "The Inferno."
"I like 'The Gauntlet' and 'The Inferno' because of all the drama," she said.
"These people are ridiculously funny and they don't see how dumb they look, causing all the drama," she added.
Not everyone is addicted to television, however.
Some "drug-free" individuals just don't have enough time to even see what's on the tube.
Senior social work major Beth Herbst says she doesn't have enough time to what's going on out there in TV land.
"Between school, work and everything else going on right now, I don't even know what's on anymore," she said.