McConnell second speaker in series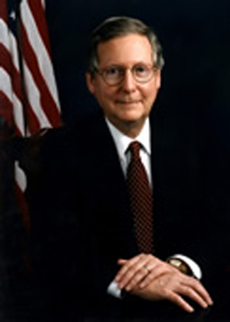 Contributed Media
Sen. Mitch McConnell will speak at a luncheon sponsored by TeamNKU and the Scripps Howard Center for Civic Engagement Friday, Feb. 20 in the University Center Ballroom.
With hopes of having government representatives visit the campus each month, McConnell was invited to speak because of his position as the Majority Whip and his contributions to Northern Kentucky University, according to Joe Myers, a co-chair of TeamNKU. President James Votruba and Gail Wells, provost and vice president for academic affairs, will recognize McConnell for his efforts to secure $1.7 million for the university.
"He's worked really hard for us and this is our way of thanking him," said Joe Mills, a co-chair of TeamNKU.
McConnell will be presented with a plaque and then have the opportunity to address the audience. Mills said the event is not only a way to honor McConnell, but also an educational experience for students. TeamNKU members will collect questions for McConnell as students enter the ballroom, and a brief question and answer session will follow his presentation.
"Hopefully he will talk about his position as the Majority Whip and how that affects the state," said junior Christina Smith, a member of TeamNKU who helped set up the event.
McConnell became the second ranking Republican in the United States Senate upon being unanimously elected Majority Whip in 2002.
"He's in charge of making sure everyone votes," said Myers.
McConnell will be the second speaker of TeamNKU's Government and Community Lecture Series after congressman Ken Lucas spoke Jan. 16. In March the university will welcome the Judge Executives from Boone, Campbell and Grant counties.
TeamNKU is estimating an attendance close to 150. Free pizza and drinks will be provided.