'50 First Dates' a sweet comedy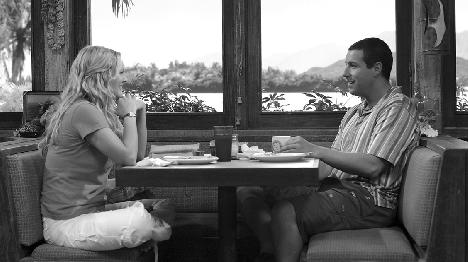 Columbia Pictures
Have you forgotten what you were doing two seconds ago? How would you like this to happen every moment of your life?
In the new movie, "50 First Dates," Lucy Whitmore (Drew Barrymore), suffers from this affliction.
She was in a car accident one year ago, and lost her short-term memory as a result of injuries.
Ever night that Lucy goes to bed, her mind erases all memories from after the accident. She begins every day thinking it is the day that the accident happened. Lucy's dad and brother shelter her from the truth about her post-accident life.
Then, one day, Henry Roth (Adam Sandler) walks into Lucy's life and her days turn into anything but repetitive.
Henry falls head over heels for Lucy, and accepts the challenge of winning over the girl of his dreams each new day.
Henry, a Hawaiian veterinarian and king of one-night-stands, abandons his bachelor's ways to pursue this mysterious girl, even though she forgets his efforts each day.
Henry goes through a variety of first impressions and let downs, in the hopes that one day Lucy will wake up and remember something about her persistent suitor.
With a million valiant attempts and a healthy dose of obstacles, Henry tries desperately to get Lucy to remember her love for him (with the help of his crazy sidekick, and community of animal friends).
Although it may seem like a predictable ending, the movie will surprise you and let you leave the theater with a smile on your face.
In "50 First Dates", which came out on Friday, Feb. 13, Sandler and Barrymore have rejoined since their first love connection in "The Wedding Singer," and have the appeal of a modern-day Julia Roberts and Richard Gere on the big screen.
These two celebrities complement each other well.
Barrymore carries the torch with her innocent personality, and Sandler's reveals himself as more than a Billy Madison.
He becomes a sensitive, though still funny, guy.
This is a good movie for couples, singles, or anyone looking for a little comic mush in their lives.