Youth lack civic literacy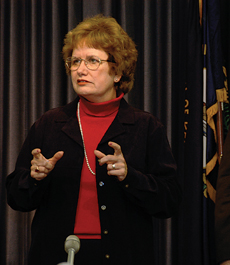 Tony Redell
FRANKFORT – Secretary of State Trey Grayson, R-Park Hills, annouced that Northern Kentucky University may soon host a summit to encourage youth to take a greater interest in government.
NKU students were informed of the prospect during a press conference Feb. 5.
The Summit for Civic Literacy will attempt to restore more civic education to classrooms, increasing students' knowledge about the democratic process, with an ultimate goal of getting more young citizens to vote, according to Grayson.
"Young people's civic and political knowledge is inadequate," said Sen. Jack Westwood, R-Crescent Springs, who is sponsoring the Senate resolution.
Westwood went on to cite a 1998 study by the National Assessment of Education Progresssaid that said nearly one-third of high school seniors lacked a basic understanding of how American government works.
The supporters of the summit believe that the lack of civic literacy could be a cause of the low turnouts of young people at the polls.
Thirty-nine percent of Kentucky's youth aged 18 to 24 voted in 2000, according to a study by the Center for Information and Research on Civic Learning and Engagement, cited in the joint resolution.
"Clearly the need to strengthen our efforts for civic education is there," Westwood said.
"Civic literacy is essential to the furthering of representative democracy."
Rep. Tanya Pullin, D-South Shore, supports the House resolution and said she believes many high school students are "hungry" for more civic education.
"Part of the reason they don't get involved is they think [the government] is far away, distant [and] doesn't affect them," she said.
"Government is not something on TV. It is not something far away and unreal. It's just regular people, flesh and blood," she said.
"I worry for the future of our great democracy. Democracy only works when the citizens in that democracy take part in it."
The summit would be held in conjunction with NKU's Scripps Howard Center for Civic Engagement, the Office of the Secretary of State, the Department of Education and the Department of Justice.
Laurie DiPadova-Stocks, founding director of the Scripps Howard Center, said she looks forward to the objectives this summit can accomplish and believes this could set a national standard for civic literacy.
"There's fundamental information about the balance of powers, state government, local government, federal government, and so forth, that should not be just for the purview of those who major in political science," she said.
According to supporters of the joint resolution, the absence of this basic understanding of the nation's democracy prevents youth from fully comprehending what their country is all about.
"We ask our young people to fight for our representative democracy on foreign soil," Westwood said, "but more often they know better what they're fighting against than what they're fighting for."
Senior Katie Herschede, a business management major, recognizes this problem.
"Understanding our country's founding documents is critical to understanding our basic responsibility of civic engagement," she said.
"Our schools, our universities, our communities and our nation are in desperate need of young leaders who understand the basic principles that our country was founded on."
The summit's committee would be comprised of representatives from K-16 education, media, civic organizations and elected officials.
Both Westwood and DiPadova-Stocks indicated that students would also be a part of the process.
"I think students will play a key role," DiPadova-Stocks said. "We need students to tell us why this is important [and] how we can gather students' attention on these issues.
"It can be very dry reading," she said. "Students will help us present the material in a way that will be engaging to others."
The committee would evaluate current voluntary and required civic literacy programs within Kentucky schools, create a strategy to enhance long-term civic education and then recommend a plan of action by Dec. 1.
According to Grayson, the joint resolution could pass in both chambers as early as the end of February and would allow the summit to be organized this fall.
Herschede, along with other members of the NKU community, is thrilled that the university has been given the opportunity to be an instrumental part of this summit.
"We have been recognized in the top five colleges and universities for civic engagement and education," Herschede said.
"NKU has the leading expertise to understand this issue and help develop a strategy for future knowledge."
Grayson also sees NKU's involvement as a shining example of the university's community outreach efforts.
"To me this is a great example of what Northern has done as a steward to the community," Grayson said.
"It's something that I think will benefit [not only] the school and the community, but our state as a whole."
"Younger generations have a treasure in this nation, and many don't see it," DiPadova-Stocks said.
"With this summit and with this initiative, our path is to help them see that, treasure it and protect it."