Valentine's Day can be painful for some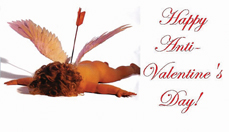 artofthemix.org
Once a year people are given a day to celebrate the ones they love by giving flowers, candy and cards. Valentine's Day is an excuse to rejoice love, but what about the single, lonely, or broken-hearted?
It can be obnoxious to be bombarded by all those cheesy pink and red decorations during February. For some, it's a great time; for others, it's just a constant reminder of being without a significant other.
Some singles even go to extremes, saying Valentine's Day is nothing more than a "Hallmark holiday."
"Valentine's Day is a superficial holiday to boast corporate America's revenue in an otherwise slow time of year," Chris Elfers, junior public relations and speech communications major said.
"Trust me, I work in retail, and it's a proven fact that January and February are slow months. It is a glorified holiday that women try to make more like Christmas, by begging their significant others to buy them some pointless gift that they'll never use. Really, how many pairs of earrings do you need?"
Some people have gone to extremes to show their disdain for Cupid's day by even creating Anti-Valentine's Day Web sites. The sites serve to bash both the holiday and ex-lovers.
However, not all singles hate Valentine's Day. Some even see it as an opportunity to express their true feelings to those closest to them, not only a spouse or mate.
"You don't necessarily have to have a girlfriend or boyfriend. I mean, Valentine's Day signifies love, and I have lots of friends that I love," said Rich Shivener, sophomore English major.
Cheryle Weber, sophomore undeclared, said, "I don't think it's necessary to have a boyfriend on Valentine's Day. I find it comforting to be alone because sometimes the other person doesn't meet your expectations."
How can singles cope in the spirit of this loving holiday?
First, if you are single, realize that you are not alone. Valentine's Day isn't all red roses and chocolates. In fact, you can have just as much fun being single as those in committed relationships. There are many things that you can do.
For example, you can treat yourself.
Buy something that you wouldn't normally buy. Splurge a little. Buy that DVD or CD that you've been wanting.
Or treat a friend!
Take a close friend or relative out to dinner to show them how much you care. Second, plan on being with friends.
"I plan on going to a bar with my guy friends; people who really love me," Elfers said. "Nobody will bicker over what they received or didn't receive."
If you don't feel like going out, then stay in and order a pizza or watch a movie. Staying in and watching a comedy can be just as entertaining as going out. Rent something that will make you laugh and take your mind off of romance.
Try relaxing or even get things done that you haven't had time to do the rest of the week, like laundry or finish sending out E-mails.
Whether single or committed, no matter what you do on Valentine's Day, it should be enjoyable.
It can be a great day or a horrible day: it just depends on what you make of it.
"If you are cynical about Valentine's Day, you probably don't have it as bad as others. I knew a guy who was dumped on the holiday," Shivener said.