Several classrooms now 'smarter'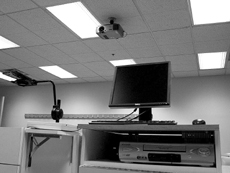 The Office of Information Technology upgraded 22 classrooms on the Highland Heights and Covington campuses of Northern Kentucky University this summer to make them "smarter."
"The rooms were equipped with ceiling-mounted projectors, electric screens, powered speakers, Crestron controls, computers, VCR, and DVD capability," Classroom/Lab Support Manager Jennifer Taylor said.
"They are made 'smart' through the utilization of the Crestron control panel and the addition of the technology."
Crestron controls are products such as wall-mounted keypads and other accessories that connect key elements of the updates like computers, electric screens, and speakers.
The new equipment was installed in classrooms in the Fine Arts building, Landrum Academic Center, Albright Health Center, Steely Library, Nunn Hall, the new dorms, and on the Covington campus.
Although these new technological commodities are not necessities, they have proven to be very successful teaching aids.
For example, more faculty members are incorporating visual aids in their lectures by utilizing Microsoft PowerPoint presentations and video reinforcements.
"The upgrades are a part of the continuous effort to improve the academic experience for our students," Taylor said.
And it was students who paid for the upgrades to the classrooms, whether they knew it or not.
"Funding was provided through the student fees allocated toward technology," Taylor said.
Freshman Jeff Cahill, a pre-engineering major, appreciates the technology and said his speech professor uses PowerPoint presentations during every class meeting. He said it helps students to have visual aids because they can pay attention more.
The university offered training sessions to faculty members who use the upgraded classrooms this semester. However, the training was not mandatory.
"We are trying to standardize the technology in all of the smart classrooms; therefore faculty may know how to operate the systems because they have taught in rooms with identical technology," Taylor said.
Several faculty members are already familiar with the upgrades, judging by the reaction they have when a classroom does not have these technological advances.
"We currently have faculty members who are frustrated when they are assigned to teach in a classroom that has not been upgraded to a smart classroom," Taylor said.
"Faculty members often design their course instruction to utilize the technology available in the upgraded rooms."
One such faculty member is JoEllen Burkholder, assistant professor of anthropology.
She currently uses the equipment in three classes she teaches and said she would be frustrated if the technology was not available to her since all of her teaching materials are in an electronic format. Burkholder said that she uses graphics and animations on the new equipment that she could not put onto slides for an overhead projector.
This year's upgrades will not be the last for NKU classrooms.
"Our goal is to have all classrooms on campus become smart classrooms, eventually," Taylor said.
"Barring budget shortfalls, we are in the process of identifying technology upgrades for the next fiscal year."