Forum raises awareness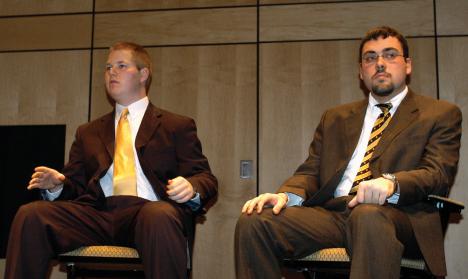 Tim Downer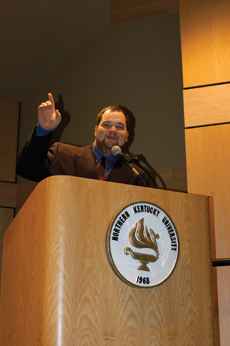 Tim Downer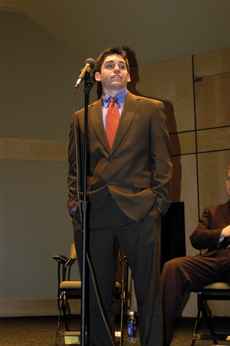 Tim Downer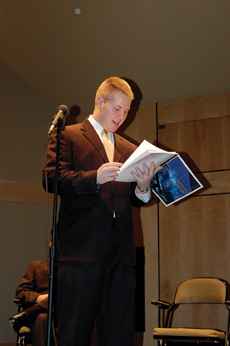 Tim Downer
The informational forum held at Northern Kentucky University last Wednesday to discuss a possible tuition increase proved to be beneficial to both students and the Student Government Association.
Students got answers as to why tuition may increase by as much as 20 percent, and SGA got feedback they could take to the Board of Regents for review.
Students who attended came for various reasons, including the free pizza that was handed out afterward.
Sophomore Travis Rothe, a graphic design and French major, said he attended because he was interested to see what would happen with tuition in the future.
Jennifer Kessler, an undeclared freshman, said she went to the forum to see if her funding would still allow her to attend NKU if the tuition is increased as much as estimated.
"My tuition is paid by student loans, so I wanted to see how I would be affected," she said.
SGA President Chris Pace began the forum with a brief synopsis of its purpose, the issues to be discussed, and an introduction of the SGA members who would be responding to student questions, including James Pollitt, Josh Ruth and Eric Fegan, SGA executive vice president and tuition committee chair.
Fegan, who Pace called the "budget expert for students," gave the audience an overview of recent tuition increases, saying students have paid 26 percent more in tuition over the last two years.
He added that with this year's cuts, tuition could rise 15 percent to 20 percent more.
Students were encouraged to write questions on note cards which were given to Pace, who acted as the moderator for the forum.
Fegan, Pollitt and Ruth alternately answered questions.
Issues raised by students ranged from enrollment and financial aid concerns to whether NKU can still afford the new Student Union and "big name" faculty members such as former Cincinnati mayor Roxanne Qualls.
Fegan said NKU is not the only university facing increases in tuition. For example, Morehead State University will see a 10 percent to 12 percent increase.
Fegan added that all Kentucky higher education schools are seeing increases in the double digits, but NKU is the only school facing increases at or above 20 percent.
Because NKU has already seen a 26 percent increase over the past two years, one student asked why tuition is still on the rise.
Fegan said there is an average increase of 2 percent to 3 percent every year.
"There is no guarantee that tuition will not increase in any year," he said.
If there is a continued rise in tuition, some students may question whether they can still attend NKU.
"There is the potential to lose students currently enrolled for financial reasons," Pollitt said.
However, he said there is no way of knowing definitely if NKU will lose enrollment because of a tuition hike.
"I'll still stay at NKU, but I know a tuition increase will affect my funding," Kessler said.
Not only could a tuition increase affect financial aid, but Fegan said it could also mean less help for international students and could raise enrollment standards for minority students.
"I do believe it would put minority students at special risk," he said.
However, Pollitt said there can be some benefit from a tuition increase, such as a better academic education, maintaining low class sizes and keeping full-time faculty on staff.
Students questioned whether it is worth the cost to have Qualls on staff as a visiting professor who receives the salary of a full-time professor.
Ruth said it depends on each person's outlook, but hiring Qualls may not necessarily be timely.
Fegan added that "roughly $47 million goes toward instruction," which includes faculty salaries and teaching materials.
As far as inquiry into other spending, some students wanted to know what could be cut, while others asked what else could be added, such as the possibility of Division I sports.
Fegan said when NKU can afford an arena or football team, he would like to see Division I sports.
As for the new Student Union, Pollitt said it is still on schedule for completion for in fall 2007.
Ruth said the university may need to re-evaluate outside spending, because it is "quite difficult" to raise money from outside revenue sources.
He added that some spending "may not be a necessity."
Michael Tobergta, a SGA senator, said he thinks there is some wasteful spending.
"I feel there are things that can and need to be done with the budget," he said.
If the university cannot cover the reductions, students wondered where they would get the extra money to cover the cost of a higher tuition.
"Students work full-time and are students full-time, and it's difficult," Pollitt said. "Students may have to rely more on financial aid and loans."
Fegan closed the forum by saying that SGA appreciated the students' attendance and comments.
"We hope to do something like this again," he said.
Students who attended said the forum was helpful and they would attend a similar function in the future.
"I think it was good that I went because I'm more informed about what's going on," said sophomore Karen Lunn, a marketing major.
She said she was also glad to find out why tuition was raised in the past.
While students said the forum was informative, they did have some suggestions for possible future meetings.
"I would like to see more people outside of NKU answering questions," Rothe said.
Lunn said she wanted to know more about the changes that could come from the cuts, and other students simply wished there was more time to discuss the issues.
Despite positive reviews from students in attendance, Tobergta said he was "a bit displeased with the turnout" at the forum and would like to see more student involvement, such as participating with TeamNKU.
He said because students will be largely affected by a tuition increase, they should have concerns about Kentucky politics.
"I truly fear for the university because of the cuts," he said.
For students seeking more answers or wanting to voice more concerns, Ruth encourages them to join TeamNKU on Tuesdays and Thursdays at letter-writing sessions.
There, students will have access to computers, fax machines and telephones to contact local legislators.
TeamNKU also hopes to have a speaker visit the campus monthly to discuss pertinent issues, including congressman Ken Lucas, who visited NKU on Friday.
Lunn said the forum also informed people of the effort to get them to go to the rally in Frankfort that TeamNKU is organizing for Feb. 5.
SGA says they hope for a larger turnout to influence state support for higher education, because more students will now know about the possible consequences the budget cuts will bring.