Students become NKU royalty
Tony Redell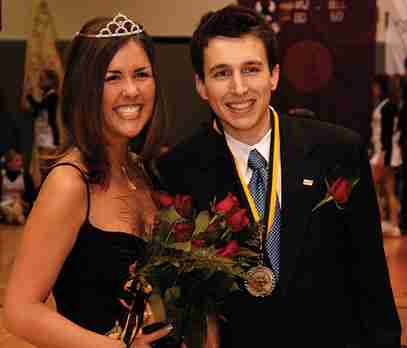 Tony Redell
Northern Kentucky University featured a night of winners Saturday, Jan. 31 at Regents Hall.
Not only did both the men's and women's basketball teams defeat Bellarmine University, but two students were also honored with the distinction of homecoming king and queen.
Joe Mills, nominated by Pi Kappa Alpha Fraternity, and Shelley Heavrin, nominated by Delta Zeta Sorority, were crowned during halftime of the men's game in front of a sellout crowd of 1,685.
"We want to honor student leaders who do outstanding volunteer work," said Tiffany Mayse, chair of the coordination committee for Homecoming. "Very few of our student leaders get paid to do the things they do, so this is like a form of recognition for their appreciation."
Katie Herschede and Jesse George, last year's king and queen, commenced the ceremony by introducing the night's guest speakers, alumni John Lucas and Tricia Macke, who announced the Homecoming court.
Court members were escorted by the prince, princess, duke and duchess, who were announced Wednesday, Jan. 28 at Yell Like Hell.
Sophomores Jesse McDonald and Tiffany Stroeer claimed the title of prince and princess, while freshmen RP Proctor and Kate Brodbeck were named duke and duchess.
Each organization had the opportunity to nominate a member. Nominations were then posted online, from where 347 students voted. Mayse indicated that it was a relatively high number, nearly doubling last year's figures.
She also noted that this number was comparable to the voter turnout of 348 students for Student Government Association's fall elections.
The student body votes narrowed down the nominee list to five a piece, formulating the court.
This year's court was composed of Jeff Iker, Dustin Lewis, Tye Mortensen, Andy Hixson and Joe Mills, all up for king, and Loni Hammons, Katie Hart, Shelley Heavrin, Nicole Rieselman and Rachel Whisner for queen.
Mayse's committee then chose the winner based on academics, involvement, community service, and an interview.
"King and queen is based on a lot of things," Mayse said. "It's not just a popularity contest like it was in high school."
Based on the many factors the committee's decision is based on, Heavrin felt very privileged to be crowned queen.
"It's quite an honor to be considered one of the top students at NKU," Heavrin said.
"All of the candidates were very talented students," said Mills.
"I was completely shocked and excited that I won."
Both Mills and Heavrin were overwhelmed by the support from their family and friends.
Mayse also mentioned that along with this distinction comes a fair share of responsibility. Homecoming king and queen are often asked to speak at such functions as Black and Gold Days and Transitions.
"My main goal when I come to school everyday is to try and get people to be as excited about and proud of NKU as I am," said Mills.
"I tell people, students especially, that this is your school, and if you don't work for it, speak up for it, and take pride in it, than who will? I hope being the Homecoming King will help me get more students active on campus."
Stefany Koo, who was nominated for queen by Christian Student Fellowship, was happy with the effects Homecoming had on the campus this year.
"Homecoming is important to our school because it motivates students," Koo said. "It's one of those things that you need to have because it battles apathy, which is a big problem for our campus.
"It's supposed to inspire feelings of love for your school, so you feel like this is a place for you. Instead of just concrete, it becomes a home for us – that's what homecoming is all about."
According to Heavrin, Homecoming isn't just for students involved in Greek life, like many events, but rather it's intended for all student organizations.
"Homecoming is one of the most well-rounded [events] that NKU puts on," Heavrin said.
"For students who actually try to get involved, NKU is a wonderful place," Koo said. "It all depends on how much you're willing to put into it."
Stephanie McGoldrick, chair of the Homecoming committee, believes that through this year's theme, "The Norse: The Untold Story," students were able to learn more about the school's history.
"Homecoming week [is a] time to celebrate the history of Northern Kentucky University, because there's a story to be told that not everyone knows," McGoldrick said.
"We thought that organizations through that theme could tell the story of their organization during this week, because their organization contributes to Northern Kentucky University as well. They're a part of the history; they have a vested interest in what happens at NKU."
McGoldrick and Tiffany Bellafant, chair of the points/spirit committee presented two awards in the second half to the organizations that had the highest percentage of their members attend all Homecoming events.
Phi Kappa Tau Fraternity won the Gold Division, which was composed of student organizations with 25 or more members. Panhellenic Council won the Black Division, where organizations with less than 25 members competed. Each organization won $250 as well as a trophy.
"It was a successful Homecoming," McGoldrick said. "There was more participation than in years past. We hope to build on that next year."
McGoldrick said that she wants to get students more involved in Homecoming planning next year, and urges students to be on the lookout for further details.