Professor brings change to museum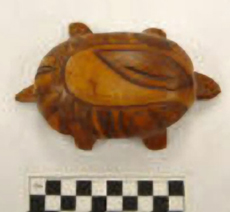 NKU Museum of Anthropology
Since last fall, Dr. Steve Wolverton has been making serious changes in the anthropology department at Northern Kentucky University.
He was appointed director of the museum, and has begun to make his mark with the program. He has big plans for the department, from starting a webpage to new design for the museum, he said.
In high school, Wolverton's mother actually sparked the idea of anthropology.
He said she told him it was something he could do. When he attended University of Missouri, he enrolled in anthropology classes for the first time.
"I really enjoyed it, they were really interesting" Wolverton said. Upon graduation, he had articles published in such periodicals as "Conservation Biology", "American Antiquity", and his favorite "Quaternary Research."
Wolverton said he found the need for a director at Northern Kentucky University while searching the Internet. Since he had experience in archeology, and management/administrative details, he decided to pursue the career, he said.
Coming from West Michigan, he moved to the area two years ago.
"I wasn't nervous about taking the position; I was excited about the opportunity, actually," he said. "The museum is a lot of responsibility, and I knew that when I took the job."
Dr. James Hopgood founded the museum in 1979. Hopgood and his staff had collected artifacts over the years for use in the museum, Wolverton said. Those items, which have been collected from all over the world, range from common items to rare artifacts.
Although the program's budget is small, Wolverton said many of the professors conduct their own research during the summer with private funding. Many of the artifacts have come from such trips made by faculty.
"Dr. Hopgood started a very good thing. He took the first step, and he did so for 30 years, now it's my responsibility to continue," Wolverton said. "He began the collection, and now that we have that, it's my duty to expand the program."
Since Wolverton arrived, many things have been changed in the program, according to Autumn Bennett, a work-study student in the program. Bennett has been involved with the museum since 2001.
"It's a lot of organizing right now. Things have changed dramatically," she said. "I've seen the plans that Steve has, and they are really great, I can see more people becoming interested."
"I think it's a real step forward, forward in the fact that more people are here now than ever. There is more curiosity, more volunteers, more learning. We're really making progress," she said.
Students are now preparing information for online exhibits, organizing the old exhibits, and even interning with local museums, Bennett said.
Wolverton has started partnerships with other museums such as Beringer-Crawford, Devou Park, and the Cincinnati Museum of Natural History.
"Students are able to intern and work-study with these places. They are doing the same work there like they've learned here," Wolverton said. 'The students can go on to learn museum management, along with other useful skills."
Along with organization and storage, Wolverton has begun an online page of exhibits.
"We've closed the display areas. The layouts are outdated," he said. "We are currently in the design stages of renovating."
In place of the closed museum, he has set up temporary exhibits on the second floor of Landrum, located next to the former museum area.
But Dr. Wolverton still has big plans for the museum as well, he said. He plans to finish the museum space to be used by students and faculty. "I'd also like to start a partnership with local schools to have field trips to the museum."
With a well-designed modern space for the artifacts, students, faculty, and the public will want to come and see these cultural pieces, he said.
Bennett added, "It's about bringing people together for culture, and differences."
For an online tour of the museum, visit www.nku.edu/~anthro/nkuanthromuseum.