Norse score 100, defeat Bellarmine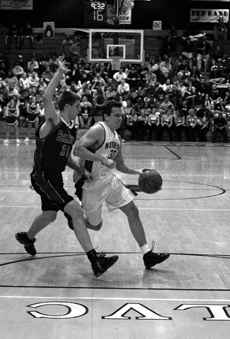 Tony Redell
The NKU men's team won its annual Homecoming game Jan. 31, defeating the Bellarmine Knights 100-87.
It was the 18th consecutive time the Norse defeated Bellarmine.
It was also the first time this year the Norse have scored 100 points in a game.
They last scored 100 points on Jan. 4, 2003 against Saint Joseph's College.
"I think this win showed that this team has a lot of people that can score," Head Coach Ken Shields said. "I was really happy with the way Steve (Purdon), Kevin (Reinhardt), and Kevin Schappell played today. Kevin Schappell really helped us a lot today by coming off the bench and contributing 13 points."
Steve Purdon led the Norse in scoring with 20 points. Kevin Reinhardt scored 19 points, of which 15 were in the first half.
The win improved the Norse's record to 14-8 overall and 7-5 in GLVC conference play.
"This game was an example of the way we've played this year," Shields said. "When we're winning a game, we always seem to let the opponent back in the game. Then when we're in a game and we're losing, we always seem to play our way back into the game.
"We had a good first half lead with 18 points going into halftime, and then Bellarmine made a few runs at us and they were able to decrease that lead," he said. "Although, we were able to come away with a good win against Bellarmine today."
Both the men's and the women's teams embark on a two-game road trip this Thursday against the University of Southern Indiana and the University of Missouri-Saint Louis.
Both teams have just eight games before the season concludes on Feb. 28 at Kentucky Wesleyan, before advancing into postseason play.
Head Coach Ken Shields will coach his last home game on Feb. 14 against Lewis.
*Sports Information contributed to this article