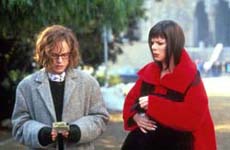 www.filmthreat.com
On Friday, Jan. 30, film fans packed Greaves Hall for a screening of director Susan Seidelman's mystery-comedy "Gaudi Afternoon."
The film was the third shown by Cincinnati World Cinema as part of its Independent Film Festival, hosted by Northern Kentucky University.
For a Friday night, the screening drew a large and diverse crowd of NKU students, teachers and other film fans from the community.
A mysterious plot fuels "Gaudi Afternoon," a film that is odd and often quite absurd.
Cassandra (Judy Davis) is an American writer working as a translator in Barcelona.
One day, she receives a visit from another American named Frankie (Marcia Gay Harden), who is searching for her estranged husband and their daughter Delilah.
Frankie hires Cassandra to track down the mysterious husband Ben and, desperately needing the money, Cassandra accepts the job.
The role of Cassandra mimics that of the classic "hard-boiled" detective in the film noir genre. She is tough, smart, and intuitive.
Cassandra even goes so far as to call herself "Brigid O'Shaughnessy," referring to Mary Astor's role in the classic film noir, "The Maltese Falcon."
What Cassandra and the audience begin to realize is there's more to this story than a simple runaway husband case.
There's also a little bit more to Frankie than meets the eye, and "Ben" turns out to be female (Lili Taylor plays the role of Ben, with great conviction).
Cassandra starts to piece the puzzle together after a trip to some sort of totally surreal cross-dressing song-and-dance bar.
If the plot fuels the movie, then the extremely quirky characters fuel the plot.
This can be seen in the role of New Age nanny April (Juliette Lewis). Lewis plays the role so convincingly, it's hard to tell if she's being overly tripped out, or just putting on an act to fool the other characters.
Barcelona is a scenic backdrop for this sordid tale of gender issues.
Antonio Gaudi lends more than his name to this film, as the architect's work is prevalent throughout the movie.
This story is many things. It is a film noir mystery, a comedy, but, primarily, this is a story about female gender issues and roles.
These eccentric female characters explore their lives and Gaudi's world around them, searching for their own identities.
Ben and Frankie must struggle to be parents despite their sexual orientation, and Cassandra must deal with the ticking of her biological clock.
Though this film is almost impossible to describe, it is not impossible to enjoy.
There are plenty of moments when riotous bursts of laughter could be heard throughout the audience.
Sometimes it is strangely touching and absurd, but never is it dull.