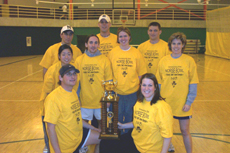 Campus Recreation
Weather problems put an end to plans for the Norse Bowl, a Jan. 31 flag football tournament involving students, faculty and alumni.
Instead, the teams faced off in the first-ever dodgeball tournament.
The events were held as part of the Homecoming celebration at Northern Kentucky University.
In the one-day tournament, five teams of faculty, staff and alumni faced off in one bracket, and 17 student teams competed in another bracket.
Bracket winners received championship T-shirts and competed for a trophy in the championship game.
The tournament is one of several new events in NKU's revamped campus recreation season.
The Norse Bowl, which was cancelled due to cold temperatures, is expected to be played next year and also become an annual event. It may prove to be one of the more popular intramural events.
In the student division, teams were comprised of different fraternities and organizations, and also included co-ed and one all-women's team. Each team had, on average, about six players.
Assistant Director of Campus Recreation Jill Kleiser said she hopes this will turn into an annual event during Homecoming, with a traveling trophy for the winners.
"The championship trophy will be engraved with the champion's name on it, and will be displayed in the Health Center," she said. "There are enough spaces on the trophy for nine years of champions."
Kleiser described the dodgeball rules as "super-basic."
"[It's] old-school, straight out of elementary school," she said. "There's six people on each side of the court. If you catch the ball that is thrown at you, the other person gets out. If you get hit below the shoulders, you get out. If you get hit in the head, you don't get out, and if you cross the center line you get out."
Kleiser's faculty/staff/alumni team, Phat, defeated a team named Charge in its bracket. The team then played the student champions of Alpha Tau Omega fraternity for the tournament championship.
In the championship game, Phat came out victorious, and will have its name engraved as the first Northern Kentucky University dodgeball champions.