DPS gains Ky. accreditation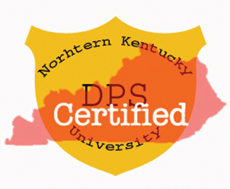 The Department of Public Safety at Northern Kentucky University recently received state accreditation from the Kentucky Association of Chief's of Police in Frankfort.
Following a year of paperwork and a revision of policies and procedures, DPS has met the set of standards required for a state agency to become accredited.
"What this does is put this police department at this university in line with everybody else as far as policy procedure standards and professional standards," said Jeff Martin, interim chief of police at DPS.
"We're in compliance with every police department in the United States," he said.
The state accreditation achieved by DPS not only brings a better reputation of safety and security to the school, but it has led to improvements to the DPS building as well.
DPS has added video surveillance to all entryways into the building, created a lobby area for visitors and students, and placed bars on many windows.
The measures allow for greater safety and interaction with those who require assistance from DPS.
In receiving a state accreditation, NKU has separated itself from many other universities in the state.
The University of Kentucky and Western Kentucky University are two other schools in the state that have an accredited police department.
A state accreditation is not a requirement for state institutions.
"This is something we elected to do to give us a little more credibility and a little more professionalism," Martin said.
The accreditation received by DPS must be renewed every five years.
The procedure for this renewal includes updating a 500-page manual to reflect any new laws or policy changes.
Another requirement is that the department is mandated to formally review every policy in this manual at least once a year.
"This will hopefully be a much easier process than obtaining the original accreditation," according to Martin,
Achieving state accreditation was not a simple task, but the numerous rewards it offers the university far outway the struggle to get this prominent status.
"It's an expensive processs, and it's a very difficult process, but once you get there its worth all the effort," Martin said.