Students enjoy winter despite storm
January 27, 2004
Filed under News
Hang on for a minute...we're trying to find some more stories you might like.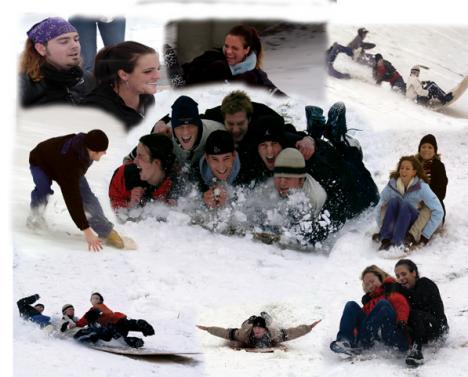 Tony Redell
The tri-state area saw anywhere from three to six inches of snow after Sunday's wintry blast. Campbell County declared a snow emergency Sunday night, along with many otherarea cities and counties. A number of schools and organizations shut down Monday as a result, including Gateway Community and Technical College, Thomas More College, the University of Cincinnati and Xavier University. Northern Kentucky University issued a partial closure, with classes beginning at 10 a.m. NKU students (above) took advantage of the climate on campus by sledding on plywood on the hill between the UC plaza and Fine Arts building.
Pictured above, center: (L-R, clockwise) Brianna Bodine, Pat Hill, Nick Roberts, Chris Brengelman, Jeremy Snell and Steve Hite go sledding on campus Jan. 26.