May graduation date changed again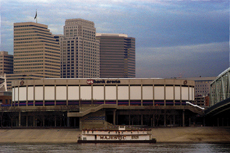 Tony Redell
Northern Kentucky University's Spring Commencement ceremony has been rescheduled from Tuesday, May 11 to Saturday, May 15 at 10 a.m. in U.S. Bank Arena.
The Commencement Policy Committee originally decided to hold commencement on May 11 due to a scheduling conflict.
When it tried to reserve U.S. Bank Arena for this spring's commencement last May, it was told that another organization already had the arena on hold from May 12 through May 15.
Kathy Stewart, director of special events at NKU, said the committee wanted to keep commencement at U.S. Bank Arena and, therefore, reserved May 11.
"We realized it was the last day of exams, but we didn't want to push it off until the following week because we'd lose faculty, it might cause a problem for international students and the dorms would be closed," she said.
However, Stewart said that several students expressed concern that their family would not be able to attend graduation on a Tuesday night.
The committee recently discovered that May 15 was available again, and placed it on hold for NKU's commencement.
If budget cuts had caused a financial problem with maintaining the hold on U.S. Bank Arena, NKU also had the Northern Kentucky Convention Center on hold for May 15. Stewart said it was also possible commencement could have been moved back on campus.
The Commencement Policy Committee plans to send a letter to potential graduates with the final details.