Intramural basketball starts season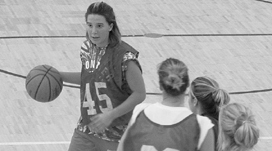 Tim Downer
Sunday was the official kick-off to NKU's intramural basketball season, the most popular of all intramural sports at NKU, with 47 teams competing.
Games are played all day Sunday, Tuesday and Wednesday evenings. Teams consist of men's, women's, co-ed and alumni teams. Each team plays a season of eight games and everyone advances to the playoffs. The champion of each league receives a T-shirt at the end of the season.
This is the first year of the revamped intramural system. Last year there were two separate seasons that were split between the fall and spring semesters. This year there is only one season.
Another new addition to the league this year is the teams are all given a sportsmanship rating (from 1 to 5) after each game. If a team fails to get an average rating of 3.5 or higher at the end of the season, then they are ineligible for the playoffs.
There are over 400 students competing in the different leagues. The leagues are separated into different levels of competition.
"I think that this intramural sport more popular because, in part, this area is surrounded by many huge basketball schools," said Jill Kleiser, Assistant Director of Campus Recreation. "It also helps that basketball is the main varsity sport at this school."
Intramural play continues until the first weekend of March.