Catch 22 forms new identity, voice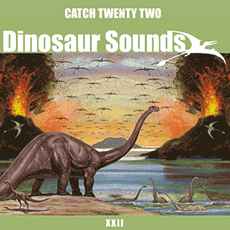 njcatch22.com
Catch 22 has enjoyed a multitude of highs and lows since its inception, the worst being the loss of two lead singers in the band's first five years.
Nonetheless, Catch 22 has surged forward. They remain standing with their heads held high and arms outstretched in a salute to a dying ska-punk genre that only years earlier thrived under the mainstream radio success of bands such as No Doubt, The Mighty Mighty Bosstones, and Goldfinger.
The New Jersey natives' fourth full-length album "Dinosaur Sounds," released Nov. 4, serves as a bittersweet reminder of what the band once was and how far it has come in seven years.
The loss of two lead singers forced Catch 22 to regroup with saxophonist Ryan Eldred and trumpeter Kevin Gunther on vocals. The duo verbally spars back and forth throughout the album's 13 tracks, while handling their horn duties as well. Missing a true front man causes many of the songs to lack the power and energy of past releases. However, Gunther and Eldred manage to avoid a grisly collision by tiptoeing through the band's up-tempo beat, letting the music showcase ability.
Whereas previous releases featured smash hits such as "1,2,3,4," "9MM and a Three Piece Suit," "Dear Sergio," and "What Goes Around Comes Around," the latest album fails to offer up a heaping serving of hit songs. In spite of this, the band spreads out the musical well-being of the record and leaves the album with no obvious weaknesses.
"Wine Stained Lips," the band's first single, falls short of earlier classics due to a lack of energy. Explosive horns, sped-up punk rock verses, and gigantic 80s guitar hooks create an unusual song, that will leave you singing along. But the urgency of a true hit never appears.
The heavily influenced hardcore songs from "Alone in a Crowd" are mysteriously gone, leaving Catch 22 to experiment with reggae, jazz, funk and rock. "Beguile the Time" is an obvious example of this laid back approach. The track highlights both singers' voices during the chorus, and creates a wailing, spacey feel with the guitar and horns.
Lyrically, Catch 22 creates a storyteller's aura through their lyrics, despite never taking themselves too seriously. Playing danceable music while constructing a crazy atmosphere has always been Catch 22's intention and this record captures the good times perfectly. It leaves the listener refreshed, wearing a smile when the CD stops spinning.
Nonetheless, fans must realize that this is not the same Catch 22 that in 1997 spawned the legendary disc "Keasbey Nights" and featured Tomas Kalnoky as singer, songwriter, and guitarist. Tomas' songwriting skills have been looked at as brilliant and his newest band, Streetlight Manifesto, seems to certify those thoughts.
But don't expect Tomas Kalnoky's Catch 22 on "Dinosaur Sounds," because frankly this version of the band has their own identity and two fresh voices leading the way.
Currently they are touring overseas, but look for Catch 22 to be heading into Cincinnati on the Ska Is Dead Tour (www.skaisdead.com) with The Planet Smashers, Mustard Plug, and Big D and The Kids Table in March 2004. Dates and venues are yet to be determined.