Book drive aids needy children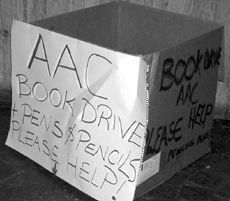 The Association of African Charities (AAC) is sponsoring a Spring Book Drive, in conjunction with Alpha Tau Omega and the Association of Student Honors.
The project's objective is to gather books and school supplies for impoverished children in Zambia, Zimbabwe and Kenya.
The AAC has placed donation boxes on the main floors of all campus buildings. Donations will be accepted until Feb. 22.
The drive is collecting textbooks, novels, pens/pencils and other various school supplies.
Last semester the association sponsored a clothing drive to support the kids and had positive results.
"We have really gotten a good response from campus [this year]," said Chanda Kapota, president of AAC. She said that local high schools are also getting involved in the effort.
Lovingson Mtongwiza, vice president of research for AAC, said he remembers growing up in Zimbabwe and going to a school where children used the floor as a desk, seat, and paper.
AAC would like to change this situation.
It is also having fundraisers, including bake sales, to pay for sending the supplies.
AAC will sell books that are in poor condition or cannot be used back to students during the first week in March at the University Center.
Proceeds will be used to buy more supplies to send to the poor children in Africa.
The organization can be contacted via its Web site at http://www.nku.edu/~helpafrica/