Years of performance mold DiFranco's sound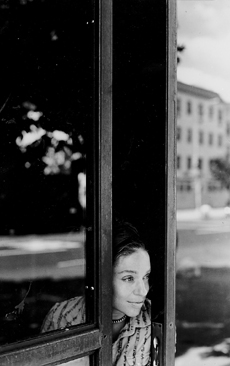 Righteous Babe Recorders
When some artists go solo, they leave one band only to piece together another. That's not the case for Ani DiFranco.
On her latest release, "Educated Guess," DiFranco really goes solo. She plays all the instruments plus sings lead and all backing vocals.
To say that DiFranco has dabbled in a few different styles over the past decade is a gross understatement. From folk to rock, to spoken word, and to the more recent work with jazz and funk grooves, her work has been all over the creative playing field.
The body of work represented in "Educated Guess" is stripped-down, raw folk with a touch of soul influence.
DiFranco's lyrics focus on personal issues, but not so personal that listeners can't appreciate or relate.
The title track talks of her crazy family not understanding their crazy daughter.
DiFranco's identity issues are explored with a dose of some spoken word poetry in tracks like "The True Story of What Was." DiFranco's deep, thought-provoking lyrics are further complemented by her beautiful voice. She sings with soul and conviction throughout.
Musically, most songs are highlighted by her incredible flat-picking style on the acoustic guitar.
The opening track "Swim" focuses on a moody, minor-keyed feeling that is pervasive throughout the entire album. DiFranco's use of minor chords and some of their more colorful extensions create a great deal of movement in her compositions through a tension-and-release effect. And it's not often a slow and sad minor sound. Take, for instance, the country rock bounce of "You Each Time." DiFranco has no trouble moving through genres. The song "Bliss Like This" is DiFranco's nod to her work in the jazz groove area and features some great Wurlitzer electric piano action.
The production work of this album truly adds to the overall musical effect. DiFranco used vintage analog recording equipment and reel-to-reel recorders, something not often heard of in this digital age.
Analog creates warmth and captures subtle nuances (like fingers raking across strings, or even the rain outside) with amazing depth. The sound becomes so alive in "Raincheck" that it feels like Ani may be sitting right next to you.
It's rare for artists' solo efforts to become more than just an effort or an attempt. DiFranco's "Educated Guess" is more than just an attempt; in fact, it's way more than an educated guess. It is years of passion and performance that have molded her into an innovative solo artist.