The untold story of the week's events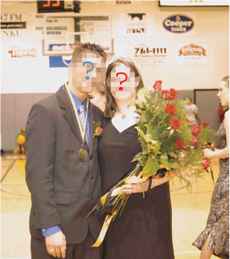 Northern Kentucky University's spring semester will begin with a homecoming celebration. The week leading up to the event will be filled with campus events and activities, topped off by the Norse basketball game and the crowning of the king and queen. This year's homecoming festivities run from Jan. 25 until Jan. 31.
The theme for this year's homecoming is "The Norse: The Untold Story". The theme has been selected because, "the history of NKU and the Norse is a mystery to a lot of people," said Stephanie McGoldrick, program coordinator and chairman of the Homecoming Committee.
"[We want] to bring the whole campus community together," McGoldrick said. She said that it is hard to motivate people to get excited about homecoming because it comes in the middle of the school year,.
McGoldrick said the committee's goal is to define NKU's history with some of the events being held throughout the week.
For example, there will be a trivia show of NKU history and a history presentation by Dr. Frank Stallings. There will also be a display case in the UC lobby to display historical information. If someone just picks up a pamphlet or learns one little fact about the university, McGoldrick said that they'll feel like they've succeeded.
There are three categories for homecoming court: king and queen (junior and senior candidates), prince and princess (sophomore candidates), and duke and duchess, (freshman candidates).
Students can vote in all the categories. The top five finalists for king and queen are chosen by an interview process, said Tiffany Mayse, coronation chair of the Homecoming Committee.
The interviews are based on a point system that evaluates campus and community involvement, grades, essays, honors, poise and presentation skills, according to Mayse.
The rest of the homecoming court will be announced at the Yell Like Hell Competition on Wednesday, Jan. 28 at 9 p.m. in the Albright Health Center.
The crowning of the king and queen will take place at half time during the men's basketball game on Saturday, Jan. 31.
The student body can vote Wednesday, Jan. 21 from 10 a.m. until 2 p.m. and 5-6 p.m. in the University Center or from any computer with Internet access at http://elections.nku.edu/homecoming. Students must have a valid student ID in order to vote.