SGA shuttle ferries students for free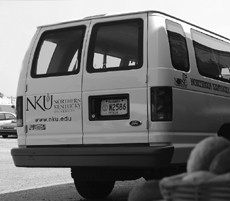 Tony Redell
The Student Government Association offers a free shuttle to take dorm residents to various local stores.
On Sundays and Wednesdays each week this semester, SGA Express will run from the Residential Village to Kroger, Meijer and Walgreens from 4 p.m. to 8 p.m.
The shuttle has actually been around for several years now, but because of the budget cuts it may also be cut if it is no longer cost efficient.
With more students driving their own cars, fewer students may need the service.
Eric Fegan, SGA executive vice president, said "a lot of international students use it," but recently the average number of students using the shuttle has decreased to only 15 students each night that it's offered.
Fegan said SGA will soon release a survey concerning university spending, and one of the questions may address whether it is worth it to "spend student money" to keep the shuttle available.
A similar service was eliminated in the past because the costs were too high.
The TANK River Run took students to Riverboat Row, 3rd Street at Newport on the Levee and from Covington Landing to Mainstrasse Village.
Despite a great first few runs, dwindling numbers showed that the experimental project simply cost too much.
In a previous issue of The Northerner, Gina Douthat, the Director of Communications and Development for TANK, said the project cost TANK $158,000 while students only paid $1 to use the service.