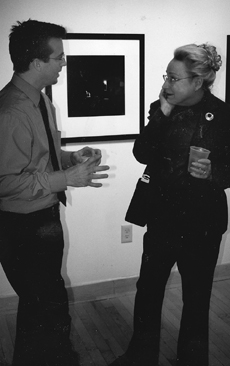 Amy Ehrnreiter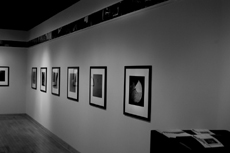 Tony Redell
Matthew Albritton, NKU Fine Arts Instructor, had many fans floating in and out of his art gallery on Thursday, January 15. The Fine Arts department hosted an exhibition for their faculty's artwork.
Albritton's photograph showcase, titled "Cyprus," is a collection from his visit in the summer of 2003 to an island off the coast of Greece, from which the exhibit gets its name. Albritton was working in Cyprus for the University of Cincinnati in a Bronze Age archaeological dig.
The photos Albritton took are "not a straightforward documentation," according to a paper he wrote on the history of the pictures. They are a "way of connecting to each experience."
Albritton's visitors, mostly past or current students who had seen his work before, braved the cold to attend the opening reception.
Maria Kammerer, a ceramic and scupture technician who graduated in 2003, saw Albritton's work in the past and found it "compelling," she said. Each image is "clear and sharp," she added.
Shelia Iott, Senior, attended the art gallery because she's seen Albritton's work and had him as an instructor in a photo documentation class.
Iott best described Albritton's artistic attitude. "What you see is what you get. Albritton sees things how they are."
All of Albritton's photographs are black and white. And rather than use digital technology, he works in a darkroom.
The photographs take hours to develop as they steep in the darkroom's chemicals.
Albritton's photographs are on an assortment of topics, ranging from living rooms to poker tables.
And though some of Albritton's art displays schools and poor living conditions, his personality is no where near a match for the dark themes.
However, while at first glance his pictures are dark, by concentrating on the light in each photo you begin to see the what topics Albritton attempts to portray in his work.
Albritton's photographs from Cyprus are now on display at the Fine Arts Center.
The Third Floor Gallery is open Monday through Friday from 9 a.m. to 9 p.m., or by appointment.
Call 859-572-5148 for more information or directions.