Nonviolence a way of life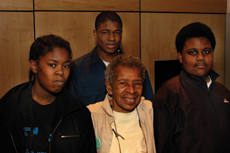 Tony Redell
NKU honored Martin Luther King, Jr. Day with a speech by civil rights activist Juanita Nelson, titled "A Way of Life: Non-Violence, Peace, and Justice."
A large and diverse crowd gathered in Budig Theatre to celebrate the legacy of Dr. King with two long-time activists.
The Lafayette-Bloom Middle School chorus provided some music for the occasion. Then, adjunct professor Ann Braden gave the introduction for her long-time friend, Juanita Nelson.
"Through the years, just by the way she lives, she's influenced thousands of people," Braden said. Braden herself is a well-known activist, author, and Kentucky native.
She was mentioned in Dr. King's famous "Letter From a Birmingham Jail" and is the recipient of an award for lifetime achievement by the American Civil Liberties Union (ACLU).
Braden teaches a course on civil rights and social justice and said that she enjoys being at NKU.
"I've come to feel like this place is my second home," she said.
After a warm reception, Nelson gave a speech on nonviolence, activism, and how it formed her moral philosophies.
Nelson was a member of countless civil rights groups. She detailed her work with her late husband Wall;, specifically, their work in Cincinnati.
In the early 1950s Nelson and her late husband were part of a group that protested the segregation of Coney Island.
"We spent nine scorching days in the Hamilton County jail for that," she said.
They protested the segregation of two music schools, which opened the doors for integration all across the city of Cincinnati.
Nelson said her husband and her work with another Cincinnati group, the Peacemakers, shaped her definition of nonviolence.
"Nonviolence is the constant awareness of the dignity and humanity of one's self and others," she said.
"It seeks truth and justice and renounces violence both in method and attitude. It is a courageous acceptance of active love and good will."
Nelson still lives the simple life on a three-quarter acre bean patch in the country. Her current lifestyle reflects her outlook on life and her beliefs:
"I am concerned to strive for a coherent, integrated life, so that the way I live and get my living might be the cleanest statement of my belief in nonviolence."