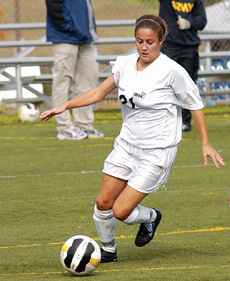 Tim Downer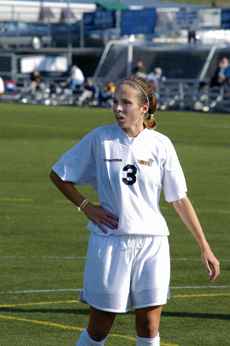 Tim Downer
Four Northern Kentucky University women's soccer players received regional accolades after being named to the All-Great Lakes Region team, as chosen by National Soccer Coaches Association of Americas.
The list is led by seniors Kendra Zinser and Becky Schneiders.
Zinser, a senior forward, finished the season with 13 goals and 33 points: team highs in both categories.
Her successful senior campaign was capped off by a tremendous showing in the NCAA tournament, including scoring three goals in the Regional Championship victory over Grand Valley State University.
"That was a great individual performance," said Head Coach Bob Sheehan. "She nearly had two more goals. It was one of the better games I've seen from one of my players."
Becky Schneiders, a senior defender, led a defense that tallied ten shutouts this season.
"Becky really was the leader of our defense," Sheehan said.
The other two players given the distinction are junior sweeper Robyn Withers and sophomore midfielder Katie Hanck.
Withers was a key cog to NKU's strong defense, starting all 24 matches for the Norse and developing into one of the field leaders for the Norse.
Hanck finished with seven goals and seven assists for the season.
She was twice named as the Great Lakes Valley Conference player of the week and, like Zinser, Schneiders and Withers, was named first-team All-GLVC.
The Norse will have to find a way to recover from losing Schneiders and Zinser, something Sheehan says will be very hard to do.
"You can't replace players like these two," said Sheehan. "They are so unique in their abilities that you won't be able to completely replace them."
The Norse will return 16 players from this year's team that finished 17-3-4.
While these four were given regional accolades, no player on the team received national awards.
"I believe that some of our players performed at an All-American level," Sheehan said. "It's kind of a shame no one received that attention, but this is a nice honor."