'Fish' is a fantastic tale of family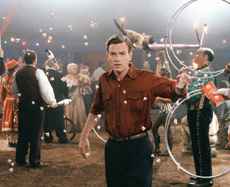 Columbia Pictures
As a child, Edward Bloom reads in the World Book Encyclopedia that a goldfish contained in a small bowl will stay small, the fish will grow up to three times larger if put into a bigger bowl.
This tiny piece of knowledge instills in him a desire to expand his horizons beyond his small home town of Ashton, Ala., and make something of himself and his life.
Bloom meets a diverse group of people and has extraordinary adventures at every turn during his travels.
In his later years, his wandering experiences become the basis for the tales everyone knows and loves him for (even if at times they seem a little exaggerated).
Everyone loves him for them, that is, except his son Will (Billy Crudup). Will leaves home to start a new life in France, but is forced to return home when he learns his father (Albert Finney) is dying.
It's been three years since they have even spoken to one another, and Will returns to attempt to discover who his father really is.
Ever since he was little he has only seen one side of his dad – the stories. And Will believes that to understand his father is to understand the complete story, not just the parts filled with fluff.
"Big Fish," directed by Tim Burton and based on the novel by Daniel Wallace, isn't just a story about one man's life, but a poignant reminder of the ties that bind a family.
Burton, known for such films as "Edward Scissorhands," "Batman" and "Beetlejuice," takes on a lighter note in "Big Fish."
He still uses sets and designs that are out of this world, but instead of being dark and foreboding, they have a carefree, magical aura.
Burton's direction is perfect for a film like "Big Fish," while Albert Finney's deep voice rumbles throughout the film, spinning the fantasy-filled tale of his character's life,
Burton shows the story to the audience in a way that still makes my eyes believe they are deceiving themselves.
During his life, a young Bloom (Ewan McGregor) seems to have met a witch (Helena Bonham Carter) who showed him how he would die, befriended a giant, worked for a circus with a ringleader (Danny Devito) who turned into a werewolf, met Siamese twins who are connected at the hip while fighting a war, and met his one true love, Sandra (Jessica Lange).
Burton's extravagant scenes for each tale permeate the film with the feeling of existing in an imaginary world filled with mythical creatures and bright colors, instead of merely watching the tale of one man's life.
Ewan McGregor does a wonderful job of playing the young Bloom, but it is really Finney who brings both the older and the younger character to life.
He captivates the audience with his energy and life, though he plays a man on his deathbed.
He makes his character so believeable that it was hard to believe the stories he tells are only part of a film.
This is a movie about a man's life and his death, but it is beautiful and chilling to see that he is still in love with his wife and his family to the end.
Finney and Lange play more than just husband and wife, they play a couple still in love, on the verge of being seperated by the cruel progress of cancer.
Their tale is just one aspect that lends this movie it's a magical air, but it is one of the most important.
The movie also addresses the need to resolve problems before it is too late.
Crudup's need to understand his father is convincing, but he doesn't seem to express himself as well as the other actors. At times it felt like he wasn't living the story, but simply acting the part.
In a movie like "Big Fish," living versus acting the part is the distinction between a good job and one that deserves an award.
By the end of the film, I was sad to leave. This is one of those movies that I'll be watching with my children on a Saturday 20 years from now.
It is bright and colorful, and takes me away from this world for just a few hours. It is a film that almost seems too big for the big screen.
But then again, it wouldn't be "Big Fish" if it was just a plain old tale with ordinary directing and acting.