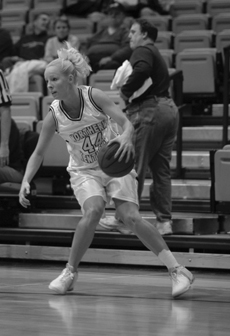 Tim Downer
In my first ever Hot Seat interview, I decided to interview women's basketball senior starter Jessica Brock. Brock is one of NKU's most versatile basketball players. She transferred to NKU her sophomore year from Indiana-Purdue, Ft. Wayne.
John Rasp: Why did you transfer from IPFW? Jessica Brock: I didn't like the coach. He was young and a hothead basically.
JR: What was the most exciting game you've ever played in? JB: Probably the national championship game. Even though we lost by 15, it was great being there. It was probably my most memorable moment because most people can't say they've been there.
JR: What is the toughest gym you have to play in? JB: Probably Indianapolis because it so open. We're not used to playing in a gym that open.
JR: What was the best game you ever had? JB: Probably at Lewis this year. Even though we lost, I had 18 points and a lot of rebounds.
JR: What team left on the schedule do you most want to beat? JB: Probably Bellarmine at home. I don't think I've ever beaten them at home since I've been here.
JR: Toughest player you had to guard in practice? JB: Probably Michelle Cottrell.
JR: Have you ever had a technical foul called against you? JB: No. I came close though in high school. I had the ball and a girl wouldn't get off me, so I swung around and didn't mean to hit her, but I got her right in the nose. It was kind of a frustration foul. JR: If you weren't playing basketball, what sport would you be playing? JB: Probably volleyball. We went to the state finals in volleyball at my high school.
JR: In a one-on-one game between you and assistant coach Brian Neal, who wins? JB: Me, because I would push him around too much. He's a complainer. (laughs) I'd make him cry.
JR: What's the maddest you've ever seen Coach Winstel in a game? JB: Probably last year at the conference tournament in Evansville. She was so mad at the Quincy game. She came into the locker room with her hands out. She took a jug of water and tossed it. I could have cried right there. I thought for sure she was coming after me, but I didn't know what I did.