Tuition may lead students to vote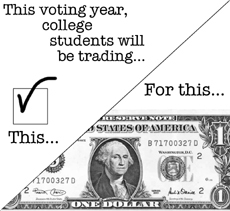 (U-WIRE) UNIVERSITY PARK, Pa. – With the 2004 presidential election less than a year away, candidates have begun to compete for the attention of student voters at Pennsylvania State University.
Some students feel that promises for tuition cuts will increase student participation at the polls.
"I would definitely support a candidate who would decrease tuition," Michael Chen (junior-finance) said.
Chen said college students are a significant group of voters for the candidates.
"I think they should recognize [college students] because many students would participate in voting," he said.
Leigh Murray (junior-journalism) agreed that tuition cut plans would attract attention.
"It's an issue that's definitely important to the current student population, especially with tuition being on the rise," Murray said.
Alice Hans (junior-music education) said it is smart for candidates to recognize students' financial burdens, because the college-age demographic is often overlooked.
"I get kind of annoyed because the majority of voters are older," she said. "A lot of times candidates gear it towards the majority of voters."
Some students are skeptical about the candidates' plans.
"Promises to college students aren't often kept because they aren't seen as important," Bron Irwin (senior-management science and information systems) said.
Irwin said most students don't worry about tuition costs because they don't finance their own education.
"Most of these kids here, their parents pay for their tuition, so they don't care," Irwin said. "I'm graduating; I don't care."
Tina Maria Simms (senior-English) also said most candidates' promises are unreliable.
"A lot of politicians make promises during the campaign and don't follow through with them," she said.
Some students, like Hans, said they wondered how tuition cuts would be funded with the present economy.
Whether or not candidates' promises will eventually be carried out, most students believe the attention toward reducing tuition costs will result in a higher voter turnout among students.
"A lot of the issues candidates campaign on don't directly affect the students, but this is one that does," Murray said. "It's definitely an issue that could get students to the polls."