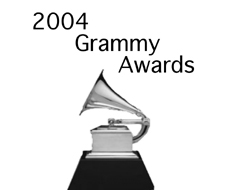 grammy.com
The 46th annual Grammy awards ceremony will take place on February 8 in Los Angeles.
This year's nominees reflect many new trends in the music industry, specifically the domination of mainstream music by rap and hip-hop, and rock's great rebirth this year.
Leading the pack of Grammy hopefuls are Beyonce, Jay-Z, Outkast, and rapper/producer Pharrell Williams, with six nominations each.
In the Album of the Year category, the nominees are "Elephant" by The White Stripes, 'Justified" by Justin Timberlake, "Speakerboxxx/The Love Below" by Outkast, "Fallen" by Evanescence, and "Under Construction" by Missy Elliot. In my opinion, the top two nominees in this category are The White Stripes and Outkast.
Both albums are groundbreaking in terms of both creativity and popularity. Though Jack and Meg's gritty, raw opus is a testament to rock and roll's power, Outkast's artistic audacity should be enough to secure their win. Couple the slick production values with the duo's unique creativity and you've got a winning combination.
For Record of the Year, the nominees are "Crazy In Love" (Beyonce, featuring Jay-Z), "Where Is the Love" (Black Eyed Peas and Justin Timberlake), "Clocks" (Coldplay), "Lose Yourself" (Eminem), and "Hey Ya" (Outkast).
If they awarded this category to the song that has been played most this year, it would probably go to Eminem. But, it doesn't work that way. The hauntingly melodic Coldplay will probably win this category, even though they do sound a lot like Radiohead.
Switching over to the rap field, the nominees in the brand new Best Rap Song category are "Calvin Broadus" (Snoop Dogg), Chad Hugo and Pharrell Williams for "Beautiful," Shawn Carter (Jay-Z), Chad Hugo and Pharrell Williams for "Excuse Me Miss," Mike Elizondo, Curtis Jackson (50 Cent) and Andre Young (Dr. Dre) for "In Da Club," Jeff Bass, Marshall Mathers (Eminem) and Luis Resto for "Lose Yourself," and Missy Elliott and Tim Mosley for "Work It." Missy Elliott's "Work It" should, however, win an award for most backwards lyrics.
The Best Rap Album nominees include albums by Missy Elliott, 50 Cent, Jay-Z, Outkast, and the Roots. Again, in my opinion, it will be toss up between Outkast and the Roots.
In the rock category, the Best Rock Album nominees are Audioslave's self-titled debut, Evanescence's "Fallen," the Foo Fighters' "One by One," Matchbox Twenty's "More Than You Think You Are," and Nickelback's "The Long Road."
Notably missing from this category are The White Stripes. How does an album get nominated for Album of the Year and not even get a nod in its own category, especially when Matchbox Twenty does?
In the pop field, Christina Aguilera was nominated for three awards (Best Female Pop Vocal Performance, Best Pop Collaboration With Vocals, Best Pop Vocal Album for "Stripped"). She's part of an eclectic mix in the pop category with other artists such as Sting, Mary J. Blige, Tony Bennett, the late George Harrison, and, of course, Justin Timberlake. His album "Justified" is nominated for Best Pop Vocal Album and "Cry Me A River" is up for Best Pop Male Vocal Performance.
Among some more interesting nominees are Bill and Hillary Clinton.
Former president Clinton is nominated in the Best Spoken Word Album For Children category for his work on Prokofiev: "Peter And The Wolf/Beintus: Wolf Tracks", a symphonic fairy tale featuring Mikhail Gorbachev and Sophia Loren.
And Hillary's "Living History" is nominated for Best Spoken Word Album.
The awards ceremony will be broadcast live from the Staples Center on CBS at 8 p.m.