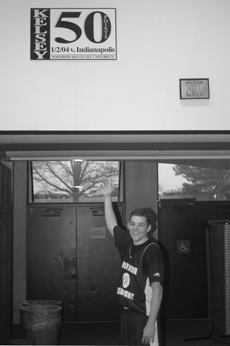 Tim Downer
During the winter break the Northern Kentucky University men's basketball program participated in two events that will leave a mark on the school record books for a long time.
The first happened Dec. 30, when Head Coach Ken Shields, in his sixteenth and final season at NKU, recorded his 300th career victory. The mark came as the Norse defeated Mt. St. Joseph's College with 82-67.
"It was very nice to get the win at home," Shields said. "I never thought about reaching this mark, it kind of just happened."
Shields has been involved in coaching for nearly 50 years, and has won a combined 760 games between the high school and college ranks.
"I have had a lot of great players and assistant coaches," he said, "and they deserve a lot of the credit for helping me to win this many games."
After reaching milestone victories of 200 and 250 on the road, Shileds was especially pleased to get his 300th win at home. In his previous 15 years at NKU, Shields finished with a losing record just five times, and is currently working on his tenth consecutive winning season.
Mike Kelsey broke the record for scoring the most points in a game at NKU, as he notched 50 points in an overtime loss to the University of Indianapolis in Jan. 2.
Kelsey's point output was nearly matched by David Logan, who had 44 points for Wesleyan in the 95-92 overtime loss.
Kelsey broke the previous mark of 43, set by Greg Phelia in 1992. Kelsey, who scored 39 points in the second half, hit nine three-pointers and was 16 of 25 from the field and nine for nine from the free-throw line.
After Saturday's game Kelsey's career point total is at 972 points, which places him 25th in career points at NKU.
"That was one of the top three or four games I've seen an indivdual play," Shields said. "I was here when Greg scored 43, and when Derek Fields scored 39. I also was coach at Highlands when Scott Draud scored 69 points in a game, and that was before there was a three-point line."