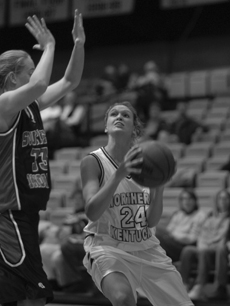 Tim Downer
The NKU women's basketball team capped off an impressive three-game stretch by defeating Southern Indiana Saturday, 83-74. It was the seventh straight win for the Norse and the third consecutive conference victory, after defeating Indianapolis and Kentucky Wesleyan earlier in the week.
What makes the streak even more impressive is that they have had to do it all without their leading scorer, Sharell Snardon, who has been with family due to the death of her stepfather.
"We've gotten solid play from Karmen Graham while Sharell's been away," Head Coach Nancy Winstel said, "and it should just continue to improve as she becomes more comfortable in that role."
Connie Myers took over the offensive void left by Snardon, tallying a double-double with 22 points and 10 rebounds to lead the Norse. Karyn Creager came off the bench to score 16 points, shooting 11 of 12 from the free-throw line.
The win raises NKU's record to 10-3 this season, and should better their national ranking, which is at number 22 in the latest NCAA Division II poll.
"We are getting better every time we go out on the court," Winstel said. "We aren't real flashy, but what we are able to do, we do very well. Everyone continues to contribute."
The Norse were able to establish their inside presence early and continued to dominate throughout the game, out-rebounding the Eagles, 41-29. They also held off any chance of a comeback attempt in the second half by going 23 of 29 from the free-throw line.
"We hit some very big free throws down the stretch, were able to do a great job on the boards and played with a very high intensity," Winstel said.
Nikki Perkins finished with 15 points for NKU.
Freshman Graham continued to have a positive impact, totaling nine points and grabbing eight rebounds.
USI, who had four players in double-figures, got 22 points from Jaime Truitt and 16 points from Shannon Wells.
"Our conference is so tough, that we really have to win these games at home," Winstel said. "As long as our young kids continue to get key minutes and everyone plays very hard we should be alright."
Both men's and women's teams will face their first conference road tests of the season as they travel to take on Quincy on Thursday before going to face Southern Illinois University at Edwardsville on Saturday.