Kelsey scores 24 as Norse upset Eagles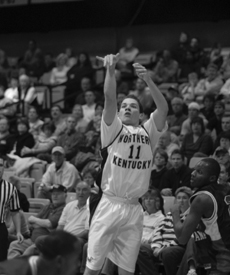 Tim Downer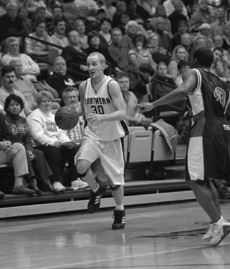 Tim Downer
After losing two straight games by a combined four points at home to your toughest conference competition, most teams would be discouraged, tired and looking for excuses. But don't cast the NKU men's team into that group.
After suffering back-to-back heartbreaking losses at home to Indianapolis and Kentucky Wesleyan, NKU had a showdown Saturday with the number one ranked team in the nation – Southern Indiana. Instead of being frustrated and discouraged by their previous losses, the Norse knocked off the nation's number one team 81-80.
"This was a must win game for us," said point guard Sean Rowland. "We are going to be fighting to get into the NCAA tournament, and this was a big win for us towards that."
NKU trailed 77-73 with 4:43 remaining in the game, when the Norse went on a 7-0 run, sparked by a Rowland jumper, and a Mike Kelsey lay-up, giving NKU an 80-77 lead. Jon Oden ended the USI scoreless drought with a lay-up in the lane, cutting the lead to 80-79 with 34 seconds remaining. However the Norse were called with a five-second violation while in-bounding the ball, and Southern Indiana regained possession.
USI was unable to capitalize on the NKU mistake, as Joe Gordon missed a short jumper and Rowland was fouled after grabbing the rebound.
Rowland converted one of two free throw attempts stretching the lead to 81-79 and on USI's ensuing possession Oden was fouled while attempting a shot in the lane with 2.6 seconds remaining in the game. However, Oden, who led the Eagles with a game-high 31 points, made his first free throw and missed his second giving NKU the upset victory.
"At the beginning of the season we weren't even supposed to be able to play with any of these three teams," said Head Coach Ken Shields. "I'm just very, very happy with the way this team has been playing and we will get better with every game we play."
The Norse, who shot 56 percent from the field, were led by Kelsey who scored 24 points and had five assists. Senior Jesse Rupe scored 14 points and Steve Purdon came off the bench to score 11 points in the win. Rowland finished with seven points and eight assists.
"Purdon was hot off the bench for us today," said Shields, "and we decided at half-time to shorten the substitution rotation in the second half, in order to match-up successfully with [Southern Indiana]."
Besides 31 points from Oden, the Eagles also got double-digit scoring from Chris Brunson, but they couldn't recover from shooting just 44 percent from the field.
"This is the finest collection of young men," said Shields. "It really is a great group of guys from one end of the bench to the other."