Students observe World AIDS Day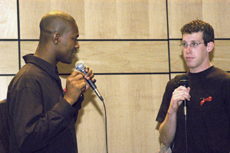 Tony Redell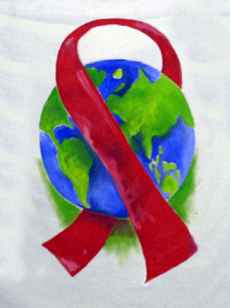 Tony Redell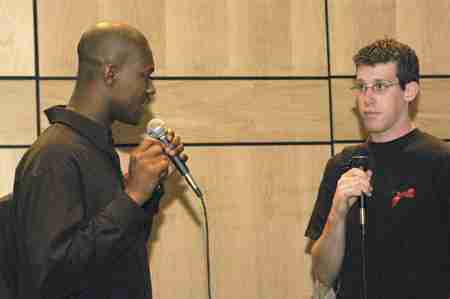 Tony Redell
All across Northern Kentucky University, students wore red ribbons in honor of World AIDS Day.
The Association of African Charities hosted an event Dec. 1 in the Otto M. Budig Theatre to raise student awareness of the day.
"Most people don't even know about this day (but) it's something done around the world," said Selina Oladapo, AAC vice president of administration.
Lovingson Mtongwiza, AAC founder and vice president of research, said he was pleased with the turnout.
"This part of the region, people tend to think issues like AIDS, poverty and hunger are things that are found far away from them, and they don't have anything to do with them," he said. "For us to get 20 or 30 students is great."
Although Oladapo said she wished more people could have attended the event, Mtongwiza said he still saw the day as a victory.
"We're not measuring success only by attendance, because our main aim as an organization was to raise awareness at NKU," he said.
Mtongwiza believes the AAC achieved just that, because students became aware of the day by the AAC's advertising of the event.
That's how freshman Sheree Davis learned of the event.
"I remember something about World AIDS Day back in grade school," she said, "but I didn't remember it was Dec. 1."
David Tucket, risk reduction specialist from AIDS Volunteers of Cincinnati, was the event's main speaker."The figures he gave us spoke," Mtongwiza said. "(AIDS) is here."
President James Votruba also spoke at the event and said that he wants the day to be a campus-wide event next year, involving the entire university.
This year's theme focused on getting rid of stigma and discrimination associated with the AIDS.
"So many people are refusing to come out and get tested because of the stigma associated with AIDS," Mtongwiza said.
The event also featured an essay contest, won by Emmanuel Brace and Sharon Schuchter, who were presented with gift certificates to the campus bookstore.
"I thought it was well-executed," Davis said. "It served its purpose as in illustrating the issues, dealing with the AIDS epidemic."
"I'm on cloud nine with the whole thing," Mtongwiza said.