Funds not dispersed, critics say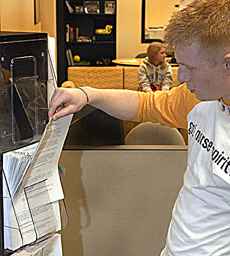 Tony Redell
Students who control a new source of money for student organizations have drawn criticism from groups who feel they have been unfairly denied their funding requests.
Members of the of the committee that oversees the $40,000 Legacy Fund have the power to approve or deny solicitations made by students organizations for money from the fund.
The Legacy Fund committee is overseen by Tiffany Bellafant, assistant director of the Office of Student Life, and is composed of seven members appointed by SGA.
The fund's charter stipulates that the committee must be comprised of representatives from a variety of student groups: Greek, residential housing, minority, transfer, adult/non-traditional, international and graduate.
"One claim that people have had is that we're not allocating enough money," said Eric Fegan, executive vice president of Student Government Association and Greek representive on the Legacy Fund committee.
"The three things we can allocate money for are operational assistance to a club or organization, programming assistance and travel assistance," Fegan said.
"Another argument we've heard is that African American and minority organizations haven't been getting all the allocated funds that they're asking for," Fegan said. "We've actually allocated 47 percent of our money to African-American and minority organizations, which make up a little less than 6 percent of our campus. To me, there's almost an unfair skew in the opposite direction.
"Of the money that has been expensed from the fund so far, 71 percent went to African American and minority organizations," Fegan said. "So for me, that's a tough claim to ever give because the numbers speak for themselves."
When the African Student Union went before the Legacy Fund to request money for the Cultural Fest, they were denied.
According to Dean of Students Kent Kelso, the Legacy Fund is intended to help organizations advertise and promote themselves, and also to cover travel expenses for such events as workshops.
"Cultural Fest would have been something (classified) as campus-wide," Kelso said. "They didn't get anything from the Legacy Fund, but they came to me and they got $1,500."
Kelso, along with Fegan and SGA president Chris Pace, oversees the Program and Activities Grant (PAG), which is part of a $90,000 grant from the university's budget as President James Votruba's investment in student organization programming.
PAG, along with the Collaborative Projects Fund, are the two other primary sources of funding for student organizations.
"The intent of PAG is for organizations to design, develop and implement large campus-wide programs and initiatives that could turn into some traditional events on campus," Kelso said.
The Collaborative Projects Fund has a budget of $15,000.
"It's not a whole lot of money," Kelso said, "but it has been used successfully to do various events on campus where two or more organizations want to have an event together."
The Legacy Fund is different in that it is "targeted for individual student organizations," he said, adding that PAG is for campus-wide programs that require significant money.
"We want to send (African Student Union) to PAG," Fegan said, "so they could get more money and be well taken care of because we can't afford to give them what they're asking for."
"Student Life ensures that the (Legacy Fund) committee understands what their role is and the parameters they need to work under, (which include) the consitution and university policy," Kelso said.
"If indeed the decision was made in a way that indicated a discrimination issue, the university would step in and overturn that decision and make sure that no discrimination is going on. The university reserves that right do to that," Kelso said.
"At this point, I have not been made aware of anything like that," he added.
Fegan said he is confident that the diversity of the committee ensures decisions are made with much thought.
"I can say with complete and utter confidence that there's been no discrimination towards any group," he said.
Fegan said he wants to ensure that they'll have enough money for the entire year. The committee has allocated just under $8,000 this semester, out of almost $40,000 in total requests.
"I don't want to say, 'Well, I'm sure that is a great event, but I don't have any money to fund you with that,'" he said. "So we're trying to be as fiscally responsible as we can."